Superior Sales Consulting's Disruption Podcast series shares the stories behind some of the biggest disruptors in FMCG. Retail World has compiled highlights from Episode 12, 'Call to Courage', which interviews the General Manager of 3M's Consumer Division, in Australia and New Zealand, Rhonda McAllister.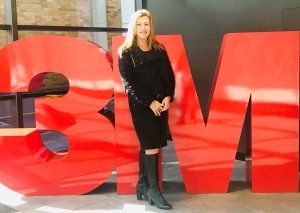 Can you tell our listeners about where you grew up, where you went to school and how you started?
I grew up in a small town in Canada called Seaforth, which is close to the US-Canadian Border.  That's where I went to school. I'm very proud that I'm from a small town. But I went to college and University in the bigger city close by. I went to Kitchener for college – Conestoga college, and then [I] went to London, Ontario for University – the University of Western Ontario.
In college, I [initially] took an Executive Administration and Business course. Then while I was at University, I got an internship with 3M, and I was studying business. Well, no, I [first studied] Sociology. When I got the internship at 3M, I started studying business – 3M has a lot to do with me changing my way and where I was going.
I'm fascinated that you had an internship at 3M [and then] obviously had an amazing career [there]. 3M is one of the most celebrated companies from an innovation point of view. [There must be a lot of] stories of people who invented the Post-it Note and Scotch tape, stories that inspire generations.
Certainly, 3M's backbone is on innovation, and so are the stories. I still do a tour at our 3M Innovation Centre, and I learn something new [yet] I've been with the company for 30 years. You learn a new story every year, and you put it in your cap. Art Fry [for example] invented the Post-it Note, we all know that, and we're sitting in a room that is labelled the 'Art Fry Room'. So, it goes a long way, the history of 3M.
Give us an insight into your purpose, mantra, [and] your why – why do you do what you do and what motivates you every day that you lead the consumer division?
I joined the pharmaceutical division within 3M and, of course, I didn't know anything about pharmaceuticals and medical terms or anything like that. So, I felt like I needed to brush up-I took additional courses. But [I'm] fine with knowing what I don't know and learning as I go. That was one of the key things for me in joining 3M, which was pharmaceuticals at that time. I was [then] able to move into other areas of the business like the corporate marketing office. I have basically worked in every part of 3M – it's easier to say where I haven't worked.
When you think about that 3M is such an innovation powerhouse, have you always been aligned to creative thinking and innovation yourself?
I'm really an attitude person. I remember carrying a poem in my diary when I went to sales or marketing meetings, and it was all about attitude; attitude is everything, and it'll get you through anything. So, the innovation side of 3M, we left up to the R&D [research and development]. The creative side, possibly for me, was when I went into marketing. But I soon realised that to be a good marketer; you also needed to be in sales. So, I've done both.
Have you got any philosophies, either that have been inspired by yourself or inspired by 3M, in terms of building and managing your team?
Situational Leadership is [one]. Because you have different types of people that you work with you need to [be able to] delegate – you need to lead, manage [and] facilitate. I was always working on myself to adapt to the situation. Also sharing that with them, that if they're new in a job, [they] might need to be told how to do it, [and that, they will] bring [their] own style into the job while [they're] learning at the start. That's been the beauty of 3M – being able to move from one industry to another, [without being] fearful that you don't know what's going on because you'll figure it out.
What was [a] key turning point [for you]? Were there any [interesting] roadblocks? Being a female leader within the FMCG space, can you share any stories?
[One of the major] turning points has been moving into the role of General Manager, where [I] have responsibility for a lot of businesses. I guess when they say it's lonely at the top, well, I'm trying to break that down because it doesn't need to be – you're still involved. I'm trying to break through that because sometimes people don't think that they can come to me for little things, yet I love it. I love participating in the full team of the consumer business. [I want to] make sure everybody's comfortable – we're all on one team here, and that includes me, I'm no different.  
Can you share with the listeners about you as a person and what you find as disruptive and one of the things that people would sum you up as [if] they had a one-liner to say – what they think drives you. Give us a little bit [of] insight into that.
Tenacious, I suppose. I do have a story [from] when I was pregnant with twins. I look at that as a turning point because I had just been given increased responsibility [at work] and then [to] find out that you're going to have twins, not one baby, but two babies. I thought, 'holy heck, how am I going to do this?' Right? But I think back now – how did I do it? You know, responsible for not just [your] children, but [also] a whole team. And boy, do I have stories. I'm sure the team have stories. But I think the tenacity that I had was that, I could do this. It got easier, and [I] just kept going. That was a turning point – taking on a big role at the same time as having twins. No one thought I could do it.
We live in a society where we're told women can break through the glass ceiling – they can have the perfect career, marriage; the perfect everything. Obviously, that's a massive challenge. Have you got any advice for aspiring women who have been told that dream?
Yeah, there is no such thing. I've learnt, probably the hard way, [it's important] to take care of yourself first. If you don't take care of yourself, you can't run a business, and you can't get your kids to school. [Also] if you wake up in the morning and say, you can do this [then] you will do it. It can be done; you can have it all.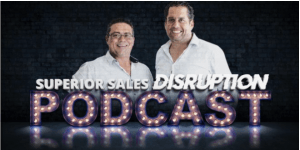 The above is an edited version of an interview conducted by Jamie Lobina and Mark Truelson from Superior Sales Disruption. To listen to the full interview, download the podcast from iTunes or www.superiorsales.com.au/podcast. New episodes are released weekly on Wednesday mornings.