To celebrate the recent launch of Finding Dory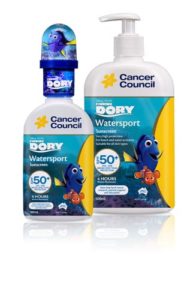 , Cancer Council has released Finding Dory Watersport Sunscreen SPF50+.
Perfect for water-based fun at the beach, pool or in the backyard, Finding Dory Watersport 180ml is topped with a limited-edition, collectable, Dory and Nemo glitter globe toy – available for a short time only. The value-for-money, convenient 500ml pump also stars both colourful characters.
With the encouragement of their favourite underwater friends, children will find applying sunscreen fun – helping to instil sound sun protection habits at an early age. When they do splash off into the water in search of Dory and Nemo, the quality Cancer Council sunscreen can be trusted to provide the highest level of SPF50+, UVA/UVB protection in a highly water-resistant formula, suitable for all the family.
Cancer Council Australia recommends using sun protection, including SPF30 or higher sunscreen, a broad-brimmed hat, sunglasses and protective clothing, as well as seeking shade when UV levels are at 3 or above.
Cancer Council Finding Dory Watersport Sunscreen SPF50+ is available in a 180ml bottle (RRP $16.95) and 500ml pump (RRP $25.95).