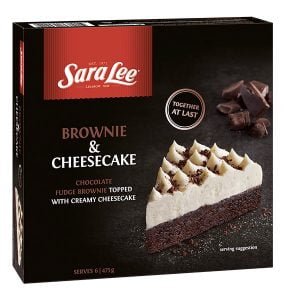 Can't choose between the brownie and the cheesecake? Now you don't have to.
It's the news both brownie lovers and cheesecake lovers have been waiting for – Sara Lee has launched a Brownie & Cheesecake to the freezer aisle.
McCain Foods Brand Manager Alexandra Kevork said: "We're happy to say that two all-time favourites, Brownie & Cheesecake, are together at last!
"Our consumers are getting more sophisticated and gourmet, and seeking adventure and café quality in the desserts they buy at the supermarket to enjoy at home. Not only do they want new flavours, they demand textural excitement and creative presentations.
"This delicious new dessert provides visual appeal right out of the pack with generous dollops of cheesecake sprinkled with chocolate crumb on top of a dense chocolate brownie cake base. We're also demonstrating on both Instagram and Facebook easy ways to decorate and impress your guests with just a few additional ingredients."
Look to support local manufacturers who have the innovation and design capability to accelerate your production rather than paying inflated international prices for your machinery.
Read More
Ms Kevork also says hybrid desserts have been a "phenomenal" success for the past few years, with trends spreading on social media.
"Creating this dessert was like playing matchmaker," she said. "We wanted to find the perfect sweet partner for our famous Sara Lee Cheesecake. We believe our chewy yet dense chocolate brownie provides just the right textural contrast to the light and creamy cheesecake topping, and the flavours just go together perfectly."
This new dessert is now available in the freezer aisle of Coles and Woolworths nationally. Available for RRP $7.49 (serves six).