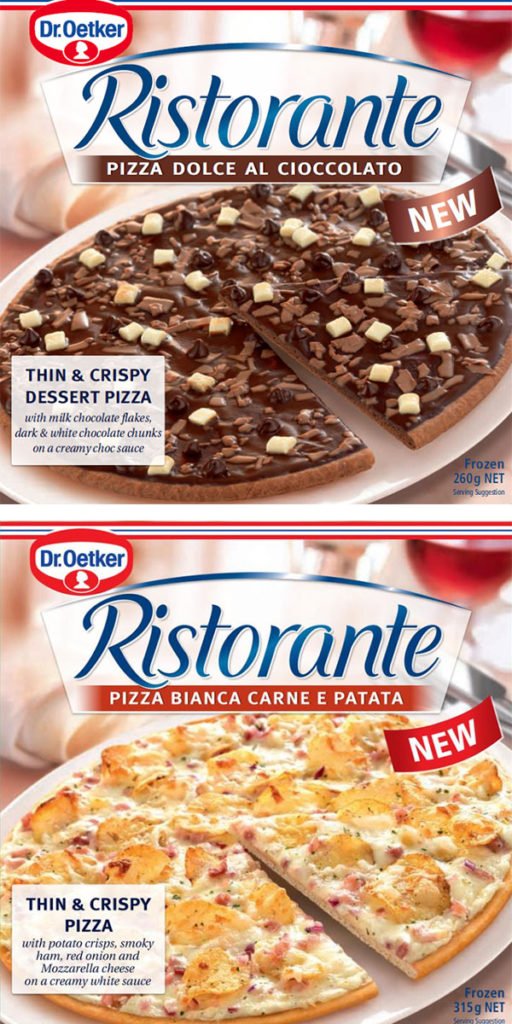 Chocolate dessert pizza, a pizza 'Bianca' and a Nachos pizza are set to grace the freezer aisle in Australian supermarkets from next month.
The Ristorante Dolce Al Cioccolato (RRP $7.50), which is claimed to have taken Europe by storm this year, will be available nationally.
A sweet pizza is usually made only by the most traditional Italian pizzerias, prompting Australia's frozen-pizza brand, Dr. Oetker Ristorante, to move into desserts and "give pizza lovers a way to satisfy their sweet tooth at home", the brand says.
The "decadent addition" is a chocolate version of Ristorante's signature thin and crispy crust, "topped with gooey choc sauce, milk-chocolate flakes, and dark and white chocolate chunks".
Dr. Oetker Ristorante is simultaneously launching Pizza Bianca Carne e Patata (RRP $7.50). The brand says this unique flavour includes crunchy potato chips, smoky ham, aromatic red onions and mozzarella cheese on a creamy white sauce.
It is claimed to be the only frozen pizza available in Australia with a white sauce – made from "rich sour cream" – rather than the standard tomato base.
Meanwhile, one of Australia's oldest frozen-pizza brands, Papa Giuseppi's, founded in 1973, will also launch a new Nachos flavour as part of the Bakehouse Crust range.
The limited-edition option, replacing the Cheeseburger flavour, is topped with "spicy pork, kidney beans, sweetcorn, red and green capsicum, crunchy corn chips, sour cream, cheese and herbs on a spicy tomato sauce". It will be available in Woolworths (RRP $7.99).