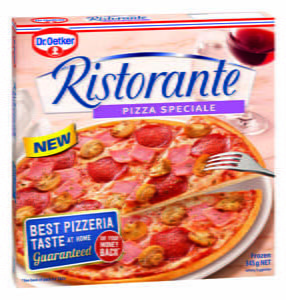 Frozen pizza brand Dr. Oetker Ristorante has launched a new eight-week campaign offering consumers their money back if they don't like the brand's pizzeria-quality taste.
The campaign is aimed at challenging the perception that frozen pizza is inferior in quality or a compromise. Dr. Oetker claims the best pizzeria taste at home is available in the freezer, and says that if consumers don't agree with this, they can get their money back.
Ristorante has the highest quality, highest weight of purchase and the most repeat buyers in the frozen pizza category (Nielsen HomeScan MAT 16/3/16, provided by Dr. Oetker).
The campaign will encourage new consumers to try the brand without risk. Dr. Oetker says that once consumers have trialled the pizzas, brand loyalty is extremely high.
The offer is being advertised via TV, in-store POS, social media and online, and is featured on packs of its new Speciale range.