Now in its 13th year in Australia, brands are being invited to enter their best and most innovative products into Product of the Year, the "world's largest consumer voted awards program," to be in the running to win one of the highly coveted award categories.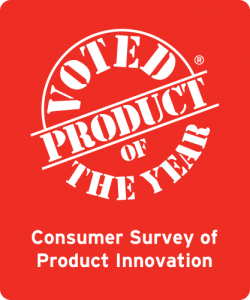 To be eligible to enter, products must be launched between the October 2019 and 31 May 2021 and demonstrate innovation through their packaging, function or design.
"Product of the Year always encourages brand new products and small businesses to enter, as well as existing products that have been adapted, redesigned or altered.
"In the midst of the Covid-19 pandemic, many Australian brands readjusted their designs and products to fit changing consumer needs, so we are certain there will be some incredibly innovative products entered for 2022."
Previous winners of the esteemed awards have ranged across categories such as beauty, health, food, and home care, with household brand names such as Coles, Gillette, Nescafé, and Palmolive being crowned, as well as new up and coming boutique brand names.
"The highly recognisable Product of the Year logo has proven to be a powerful marketing message with winners, typically seeing their sales increase by an average of 10%-15%." Winning products will be announced in November 2021 and will receive the right to use the Product of the Year seal in marketing communications for one year.
Product of the Year Australia Managing Director Sarah Connelly says, "The annual Awards have become a marketing staple for both brands and consumers sourcing quality products. During 2020, a lot of brands recalibrated their business models and objectives to fit into a challenging consumer landscape, so we are very excited to see the many outstanding products that have been developed as a result."
For the 2022 awards program, Product of the Year is excited to welcome back its brand-new category entitled 'Ones To Watch,' which recognises innovative products from smaller companies or start-ups who may not have the budget or distribution to enter into the full awards program.
In addition, understanding that many businesses are still recovering from the challenges of 2020 and are looking to cut costs where possible, Product of the Year has opted to support businesses by making entering the 2022 Product of the Year Awards as accessible as possible by reducing prices for entry. The new program fees will be reduced to:
$3,500 Nielsen Research fee which offers a unique survey of over 5000 shoppers and their thoughts on your products.
$15,000 Winner's Fee.
Brands entering the 'Ones to Watch' category will only have to pay the research fee and not the winner's fee.
The reduced fees are part of Product of the Year's efforts to champion innovative brands in Australia whilst acknowledging the financial struggles that many have been facing following 2020.
In Australia, the Product of the Year seal is backed by the votes of 5000+ consumers and aims to provide a time and money-saving shortcut for shoppers, guiding them towards the very best products on shelves.
To enter your product into the awards, or find out more about whether your brand is eligible for the Ones to Watch Award category, visit: productoftheyear.com.au.
Entries must close on 31 May, 2021 AEST.