As a fintech innovation company, AgUnity makes technology available to remote smallholder farmers.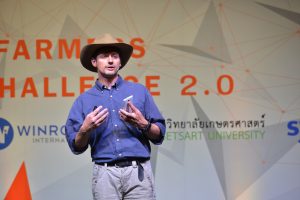 By AgUnity CEO David Davies. 
We provide farmers with one of the most valuable assets that one can have in the modern world: a digital identity.
When procuring goods, most consumers and retailers tend to overlook the supply chain journey. 'Bean to cup', for instance, goes beyond selecting and pouring your favourite brew. It often starts in impoverished areas where farmers are still fighting for fair compensation.
While often not acknowledged, some of the poorest farmers are responsible for most of the raw material production in our food supply chain. A little-known fact is that the farmers who produce the beans get around 2.5% of the value of the cup of coffee that you are enjoying!
We call them the 'last mile farmers' and have dedicated our business to empowering them with the means to fair trade.
AgUnity provides farmers with a low-cost mobile device: giving them a digital identity and enabling them to record transactions. The easy-to-use phone becomes a business tool that not only provides the farmer with transaction records, but with traceability which allows more transparency in the buying process. The tool creates trust and cooperation between the farmer and the cooperative.
Consumer power 
Food producers and retailers are serving an evolving customer base. As we become more aware of the finite resources of our world, ethical consumers are more decerning about where they spend their money.
Our AgUnity teams have spent time researching within these farming communities. We know what the farmer needs, but what does the producer need to make their brand more ethically sustainable and how does this translate to the consumer?
Our technology development has enabled us to find innovative ways to empower consumers and food producers to make responsible purchasing decisions. We have a database of worthy farmers and have dedicated our business to making a difference – now it's time to connect the greater community.
Introducing AgriUT 
AgriUT Foundation's utility token can be used by consumers to reward farmers and producers through blockchain technology.
It is designed for consumers who care about product origins and social development programs and connects consumers to brands that produce ethically sourced goods.
The AgriUT token provides consumers with a secure, ethical, and responsible way to connect with remote farmers, and gives consumers confidence that the products they purchase have a genuine ethical or sustainable origin.
Depending on current local regulations, smallholder farmers can use the AgriUT tokens to pay for farming supplies and products on the AgUnity ecosystem. As the ecosystem expands, farmers will be able to use the tokens for education, health care, and infrastructure.
What does this mean for a brand? 
Securing our food supply through transparent practises is becoming increasingly necessary. The current crisis in the world is highlighting our lack of a long-term vision for sustainability. Brands that align with solving this problem are brands that will survive an evolving conscious consumer mentality.
Think before you buy 
'Giving back' isn't always about grand gestures. It is often about the things that are commonly overlooked. Each time we pop into a supermarket, let's spend more time researching what we are buying and becoming more 'savvy' in our purchasing decisions.
To the retailers and procurement teams behind the scenes, let us do the same. We can make a difference by enabling a healthy supply chain that benefits all parties.
Find out more about the AgriUT revolution and how your brand can benefit from this token-based reward solution: agriut.org/contact.