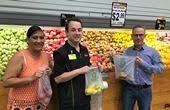 Foodstuffs is stepping up its fight against plastic by testing bespoke certified home compostable bags – made from corn.
The Kiwi company, which owns New World, PAK'nSAVE and Four Square, is testing the bags in the produce, bakery and butchery departments. The trial is taking place in selected stores around the country.
Plant-based alternative
Foodstuffs Sustainability Manager Mike Sammons says the trial is part of the company's "going reusable" push in produce.
"We've had a solid range of reusable bags available in our stores for some time," he said. "We know our customers want us to help them do the right thing. But sometimes we all forget our reusable bags.
"It's fantastic there's now a plant-based compostable roll-bag alternative to conventional plastic. It's both light and translucent for bagging apples, mandarins and flaky croissants. The home compostable bags can also be used as a barrier bag for butchery items."
Compost Me
Mr Sammons says that, after a "careful review" of all the market options, Foodstuffs chose corn-made Compost Me bags.
"The bags are third-party certified to break down into their natural elements in your home compost," he said. "So you can use them in your garden soil for growing plants. This is the biological side of the circular economy.
"So the message to customers is – reuse them as many times as you can and then home-compost them."
Ten-year quest
The brains behind Compost Me is Heidi Nixon, a finalist in 2019 MYOB Woman Entrepreneur of the Year. Heidi says she's been striving for the past 10 years to develop solutions that are better for the planet.
"As a buyer for Foodstuffs many years ago, I was growing increasingly disheartened about the amount and calibre of the packaging going through our stores," she said. "So I decided to throw myself into finding something that would work for customers, stores and the planet. After a long hard slog, I've found a solution.
"Now, customers at selected PAK'nSAVE, New World and Four Square stores will be able to access these bags when they get caught short. We'll see how the trial goes, but I have a feeling it will be a great success."
If so, Foodstuffs says, it will roll out the option across New Zealand. It also says it's "actively working" towards 100-per-cent reusable, recyclable or compostable private-label and in-store packaging by 2025.