More than 140 Ferrero employees participated in a large-scale social workforce at Taronga Zoo in Sydney recently.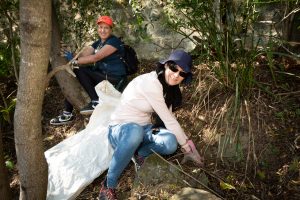 The employees, from both Australia and New Zealand (right), were taking part in the company's national conference.
According to Ferrero, they brought to life the company principle of 'Work, Create, Donate' by carrying out bush regeneration on Sydney harbour's foreshore. They rolled up their sleeves for tree planting, beach care and making animal enrichment toys.
Brainwave
They also hosted nine families of children supported by the charity Brainwave. The charity "aims to provide practical assistance and emotional support to children with neurological conditions, as well as their families and carers to positively impact their quality of life".
Ferrero has supported Brainwave since 2009.
Institutional Affairs Director Ferrero Australia Derek Lath said, "The aim of this project was more than just providing volunteers, but to also educate our employees on the importance of sustainability and to foster their understanding of why this is significant to Ferrero for all aspects of our business."
Brainwave General Manager Caroline Scully said, "We had a great time with the 13 adults and 24 children from Brainwave and the Ferrero team, at the Zoo's Backyard to Bush area on Wednesday.
"There were games, face-painting and colouring-in, gift bags and even the opportunity to meet native and farm animals with a zookeeper during the session. Family days and events with Ferrero are always enjoyable and appreciated by everyone."
3,235 pieces of litter
Over the course of the day, the combined total of volunteer work was 420 hours. Among other achievements, the volunteers planted 12 native trees, cleared invasive species from 30sqm of native bushland, and picked up 3,235 pieces of litter from two beaches.
Taronga Conservation Society Australia's Director of Guest Experience Education and Community Programs Paul Maguire said, "It was such a valuable experience to host Ferrero Australia at Taronga Zoo.
"We hope that, by providing these experiences, we can influence individuals and businesses to always consider the environment in their everyday and strategic decision-making."