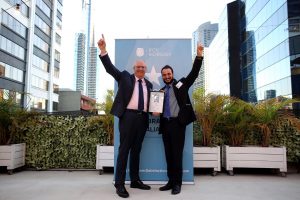 Foodland has won Roy Morgan's Supermarket of the Year for 2018, "rated as having the most satisfied supermarket customers Australia-wide".
It won the same award last year, making it a stunning double for the independent South Australian supermarket.
The Roy Morgan Customer Satisfaction Awards are now in their eighth year. Roy Morgan describes them as "the benchmark by which customer satisfaction is measured in Australia, New Zealand and Indonesia" that "reflects the experiences of over 50,000 consumers over the past 12 months and how satisfied they were with retailers and service providers".
'A magnificent performance'
At a ceremony in Melbourne, Roy Morgan CEO Michele Levine presented awards to businesses across a range of important industries.
Of Foodland's back-to-back win, Ms Levine said: "South Australian Supermarket Foodland has won a second consecutive Roy Morgan Annual Customer Satisfaction Award.
"Foodland had a nearly flawless year in 2018, winning 11 out of the 12 monthly Customer Satisfaction Awards. It came out on top of larger rivals again, following its victory as the Supermarket of the Year in 2017.
"Foodland's win has given the 2018 Supermarket of the Year a fourth victory in the category following earlier wins in 2013 and 2015."
'Trusted, reliable and honest'
Foodland CEO Con Sciacca identified the Foodland brand as key to its latest triumph.
"Trusted, reliable and honest," he said. "These are values the Foodland IGA brand is famous for, and we work at getting better at this every day.
"Foodland IGA has a strong customer focus in all decision making. Listening to our customers and providing them with the best possible customer service is at the cornerstone of what being a Foodland retailer is all about.
"This win acknowledges that. I couldn't be prouder of Foodland retailers and staff, who are once again showing Australia how it should be done."