New research from Roy Morgan shows that customer satisfaction with Foodland in August 2017 was 94.4 per cent, making it the top performer among the big-five supermarkets.
Foodland was also one of only two supermarkets to increase satisfaction over the last year, with an increase of 0.6 percentage points.
The latest findings come from Roy Morgan Research's 'Retail Satisfaction Report – Supermarkets', which is based on more than 12,000 yearly interviews with main grocery buyers.
Foodland and ALDI beat the big two for satisfaction

Foodland with 94.4 per cent satisfaction and ALDI on 92.3 per cent, lead Woolworths (90 per cent) and Coles (88.4 per cent). IGA was on 84.7 per cent.
Satisfaction with main supermarket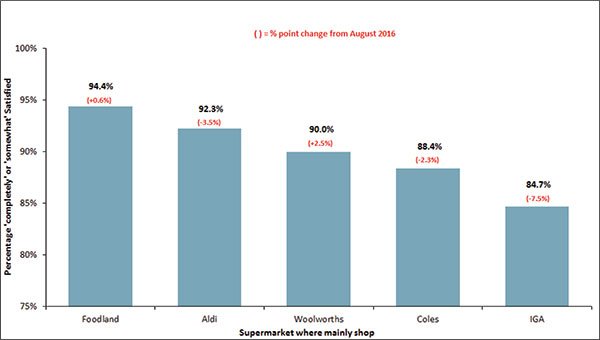 Woolworths ahead of Coles on customer loyalty

Woolworths' main shoppers spend 70.9 per cent of their total supermarket spend with the retailer, compared with Coles, at which main shoppers spend 67.4 per cent. Foodland shoppers are narrowly ahead with 71 per cent spent at Foodland. ALDI attracts a 55.5 per cent share of its customers' spend.
Supermarket customer loyalty (based on proportion of spend at main supermarket)