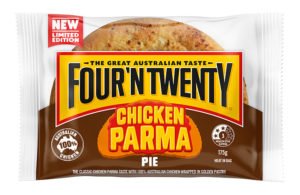 Meat-pie brand Four'N Twenty will mark its 70th anniversary this year and says it is celebrating positive sales data.
Roy Morgan Research's latest findings indicate that the number of pie and pasty consumers in Australia aged 14 and older increased from 8.1 million in 2013 to 9.4 million in 2016.
Four'N Twenty Head of Marketing and Innovation Stuart Smyth says the increasing popularity of meat pies is reflected in the growing sales of Four'N Twenty pies, which are the biggest-selling in Australia.
According to IRI AZTEC data, sales of Four'N Twenty pies are growing by 19 per cent in supermarkets and two per cent in convenience stores.
In 2016, Four'N Twenty sold 21 million pies, pasties and sausage rolls – meaning more than 57,000 were eaten each day.
"We're growing the market by introducing exciting new flavours," Mr Smyth said. "Our Limited Edition Four'N Twenty Cheeseburger Pies, and Chicken Parma Pies, have been a big hit. And we've invested in state-of-the-art cooking technology, which has enabled us to increase the quality and flavour of the meat with our popular Real Chunky range."