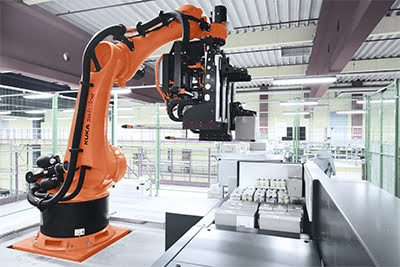 In the expansion of and automation of its Auckland distribution centre, Coca-Cola Amatil has selected Swisslog's fully automated robot-based picking system, ACPaQ.
Promoted as combining robotic solutions for palletising and depalletising with Swisslog's CycloneCarrier shuttle technology, the ACPaQ is claimed to create a "fully automated process that facilitates high throughput and reliable picking of orders for logistics, distribution, food and beverage and retail applications".
Coca-Cola Amatil NZ General Manager – Supply Chain John Truscott says the new system will enable the business to keep pace with increased demand, along with rising expectations of the quality of customer deliveries.
"We're excited by this technology and the advantages that the fully automated case-picking system gives us," he said. "This will certainly strengthen our capabilities heading into the 2018 pre-Christmas period. The whole picking system will be fully integrated using Swisslog SynQ software, which also controls automated delayering of single-product pallets into individual cases."
Amatil has been using a fully automated pallet-storage system in both Auckland and Northmead since 2007. The expansion into robotic picking, the company says, will allow it to meet rising customer demand while reducing costs and improving quality, efficiency and predictability in its operations.
Swisslogs says ACPaQ can be used in ambient temperature and chilled warehouse zones, and can handle almost all types of cartons, shrink wrapper or foiled packages, and pallet types used in retail and beverage industries.