Residential Home builder Gemmill Homes and Foodbank WA have teamed up to support the hungry this August.
Foodbank WA describes itself as "the state's largest food-relief organisation, providing over 5.7 million meals a year to people in need". It claims to help more than 94,000 WA families each month, including 31,000 children.
The organisation works with the food industry to rescue surplus and donated products that would otherwise go to landfill. In this way, it provides food to more than 450 charities and 440 schools to help fight hunger.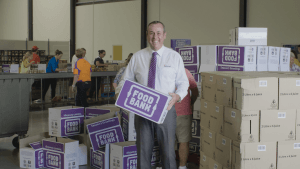 Gemmill Homes Managing Director Craig Gemmill (right) joined the Foodbank WA Community Kitchen last Wednesday to help prepare meals.
Look to support local manufacturers who have the innovation and design capability to accelerate your production rather than paying inflated international prices for your machinery.
Read More
The meals are prepackaged and given to people who aren't able to make their own. This might be because they're homeless, escaping domestic violence, or have special needs or chronic illness.
Long-time supporters
Gemmill Homes and its staff are long-time supporters of Foodbank WA.
"I now have great awareness and just a better understanding of the issue," Mr Gemmill said. "If you don't get involved, you never understand.
"More than one in five Australian children have experienced food insecurity in the past 12 months. That's a staggering statistic.
"You see the amount of food that goes to waste, and just gets thrown out, it's a real concern. The Community Kitchen is an innovative program that is helping reduce food waste by turning surplus food into meals for those who need it most."
Call to action
Foodbank WA also fundraises to buy the food it needs to fight hunger. Mr Gemmill calls on other business professionals to lend a hand.
"Regardless of what the economy is doing, you've got to be involved in some way shape or form of giving back to the community," he said.
"Just because times get tough you can't pull back, that's the time these charities need more help.
"It's not just about businesses writing a cheque out. If you have a business that has food and produce, Foodbank WA can help make sure it gets to those that need it."