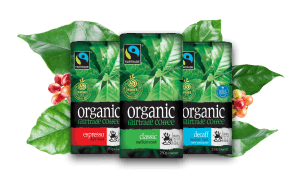 Bean Ground & Drunk is promoted as being the first certified organic coffee in Australia, serving cafes and the retail sector since 2003.
When Bean Ground & Drunk was launched, its mission for the coffee range was to create a sustainable, organic, great-tasting coffee that people enjoy while connecting.
Speaking to Retail World, Bean Alliance Group Director of Marketing Susan Castle said: "As a 'storybook' brand, the Bean Ground & Drunk story is continually being rewritten. This 'chapter' of Bean Ground & Drunk depicts a brand which has grown from a rookie, to juvenile, blossoming into a mature coffee range to now, a certified organic gold champion winner in the Australian Certified Organic space."
So what goals has Bean Ground & Drunk set for 2019 in raising awareness for sustainability? Ms Castle is passionate about the war on waste, saying it all begins by taking out the non-recyclable cups.
"We are a company that prides itself on state-of-the-art recyclable products and our contribution to the minimisation of wastage within the coffee industry that led to the innovative paper cup range developed with the integrity and knowledge of Biopak Australia," she said. "This eventuated in the divestment of 30-40 alternative cups to one style with a complex strategy, with the ultimate goal in the reduction of waste via a product with the highest level of environmental integrity from raw material sourcing, forestry to manufacturer and disposal.
"Bean Ground & Drunk recyclable paper cups are produced under the Brown Brew Cups label. Brown Brew paper cups are sustainably sourced paper board and Ingeo bioplastic lining made from plants and not oil. They're manufactured in certified ISO 14001 environmental standard facilities using the latest energy efficient production technologies. The cups can also be recycled or composted at selected facilities. Proactive cafes can collect and dispose of them in green waste.
"We're always looking for ways to reduce our carbon footprint on this beautiful planet. But when we talk about our approach to sustainability, we divide this into three tiers: social, environmental and economical.
"On a social level, we've actively created ongoing marketing campaigns that support our credentials, whether it's Australian Certified Organic, Fairtrade Australia or Swiss Water Method.
"Education practices and raising awareness to the consumer on the sustainability issues are expressed and linked with consumer choices when deciding on eco-friendly consumer purchasing. Thus, our credentials are all about making sure that Bean Ground & Drunk at the end of the day is sourced, packaged and created under strict and rigorous guidelines through ACO (Australian Certified Organic) to Fairtrade.
"From an environmental point of view, having participated in the global conversation on improved working conditions for farmers, this includes fair working conditions, fair living conditions, fair wages and structure around trading in general. Awareness of the living and working conditions for farmers will continue to broaden and grow as we focus on consumer education both within the coffee industry and externally too.
"Lastly, from an economical stance, we know that the price of organic and certified organic products has the attached preconceived notions of "expensive" "elite" "pricey" products that make it harder for consumers to purchase. Perhaps for many certified organic products that is true, certainly the cost structure is more laden as compliancy is rigorous.
"However, Bean Ground & Drunk organic coffee offers premium, 100 per cent chemical free, clean and sustainable coffee that is certified organic and has the same affordable price as regular coffee. It also won the Australian Certified Organic Non-Alcoholic Beverage of the Year award for 2019. A golden award-winning cup of coffee shouldn't be taxing on the finances: this is how we add value to our fans. That and roasting to order, so it's as fresh as it can be with the convenience of supermarket shopping."