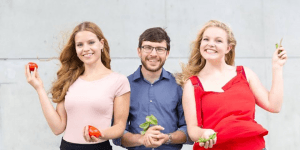 What do you get if you put the chemistry, agriculture and business expertise of some graduate students together: a zero waste, biodegradable and completely environmentally friendly solution to packaging that also fertilises soil.
Carapac was born out of the University of Sydney's 'Inventing the Future' program, which calls on highly capable graduate students from various disciplines to come together to find solutions to pressing world issues, such as unsustainable packaging.
The company was formed by Kimberly Bolton, Jared Wood and Michelle Demers, who invented the green packaging in their quest to eliminate waste.
They were triggered by the fact that the environment is losing its battle against single-use plastics, with 300 million tons of plastic produced each year.
And even though biodegradable products are thought of as obvious alternatives, they are often less environmentally friendly than they seem.
Crustacean waste base of biodegradable packaging 
After much research, the trio discovered that food processing plants in Asia and Australia cumulatively produce 8.1 million tons of crustacean waste per year. They made use of the biodegradable chitin and cellulose in crustacean skeletons to create biodegradable packaging.
Packaging's is anti-fungal and fertilisers
The packaging is attractive to retailers as it has embedded anti-fungal properties that prevent mould or fungi from growing on fresh produce. This extends the shelf life of fresh fruit and vegetables for up to seven days longer than traditional single-use plastics.
The products do not need to be recycled but can be thrown into gardens as a soil boost for natural breakdown in three to six weeks. Once in the soil, they also act as a slow release nitrogen fertiliser, making Carapac products a waste negative packaging solution.
The price of a Carapac packing products is three times that of traditional plastic, but significantly less than the price of other so-called biodegradable competitors, which are five times more expensive.