Greens & Goodness is hitting Australian shelves this month, introducing a "market-first" pea-based protein.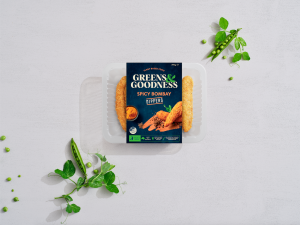 According to the new brand, its range of premium, chilled, snacks and centre of plate options will make it easier for consumers to prepare and share plant-based products, with improved taste, texture, and flavour.
Made with premium pea-based protein, Greens & Goodness brings the "finest" ingredients together, creating meals and snacks that are claimed to be simple, healthy, and delicious.
The range includes:
Zingy Mexican Crunch Burger (RRP $9.95)
Garlic & Herb Schnitzel (RRP $9.95)
Spicy Bombay Dippers (RRP $9.50)
Smoky Jalapeno Spiced Bites (RRP $9.50)
Greens & Goodness Head of Marketing Yash Gandhi says the plant-based protein market is really growing, especially locally.
"70% of [surveyed] Australian households have to vary their sources of protein for each meal to meet the needs of different household members," he says.
"We found that much of what's on offer to consumers, just doesn't stack up on taste and flavour for people looking to adopt a more plant-based diet, and we really wanted to change that."
Greens & Goodness is not only Australian owned but is also said to be one of the few plant-based alternatives manufactured locally here in Australia. Operations are based in Newcastle, NSW.
Greens & Goodness' range will be available at Romeo's Sydney stores this month, with "ambitious" national growth plans in the works.