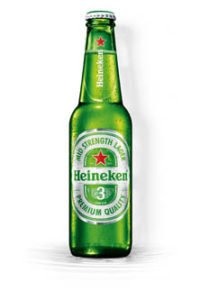 The mid-strength, low-calorie beer enables consumers to 'have it all' and its launch is the first that Heineken has released in Australia since the brand first arrived.
The launch seeks to capitalise on the growing demand for premium mid-strength beer, with Heineken identifying huge growth potential among occasional beer drinkers across Australia. Heineken has also analysed data and insights from Australian consumers to identify opportunities to leverage spontaneous, easy-drinking, mid-energy and mid-afternoon consumption occasions. This will form a major part of Heineken's strategy to enable the brand to access more drinkers in more occasions.
Heineken 3 is using the tag line 'Have It All' to communicate the product's key attributes: lower calories, lower carbohydrates and an award-winning great taste.
The beer has proved extremely popular in early consumer trials in Australia and Heineken believes this will provide a platform to grow the premium mid-strength category in the coming months and leverage ongoing consumer trends around premiumisation and moderation.
Furthermore, research has shown that Heineken 3 is a product highly appealing not just to its traditional core target male audience, but it's also an opportunity to recruit more female consumers, particularly among those who want an easier drinking and lower-calorie lager.
"We have big plans for the Heineken 3 brand in Australia and this is supported by the significant investment we have put behind our launch and marketing campaign," Lion Australia Managing Director Andrew Campbell said.
Heineken 3 will be supported by a high-impact nationwide campaign over the next 18 months with the aim of establishing the brand in the Australian market. Social, digital, outdoor, retail and experiential activations will feature heavily throughout the campaign, with the primary target being inner-city consumers.
Heineken 3 has only 86 calories per bottle, 5g carbs and 3.3 per cent ABV. It is available in regular six- and 24-packs along with a new 12-pack, to answer the necessity of smaller and more convenient formats which play a role in more occasions.