Heinz has launched a new organic toddler snacking product, Heinz Organic Infant Puffs.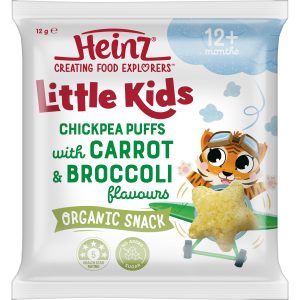 Made for children 12 months and older, the range uses a lentil and chickpea base and is promoted as organic with no artificial colours or added sugar. It holds a 5-star Health Star Rating.
"We understand that many parenting decisions are layered with juggling priorities," says Heinz Chief Marketing Officer Rebecca Preston.
"Parents want to purchase snacks to save on time, and Heinz Organic Infant Puffs are a great solution to take out with them for their little food explorers. Anytime and anywhere, they put the fun back into toddler snack times."
The new range is available in the variants of Lentil Puffs with Tomato and Carrot, Chickpea Puffs with Carrot & Broccoli, Chickpea Puffs with Pumpkin & Beetroot, and Chickpea Puffs with Apple & Vanilla.
A 12g pack has a RRP of $1.90 and is ranged in Coles, IGA and Foodland stores nationwide.