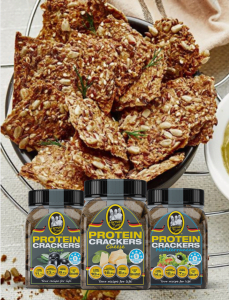 Known for their quality low carb, high protein and low GI plant-based products, Herman Brot are launching two new products.
In addition to the already existing Low Carb Bread, HermanBurger Protein, Low Carb Pasta and Protein Muesli, will be the Herman Brot Low Carb Wrap and Herman Brot Protein Crackers.
The Herman Brot Carb Wrap is a dark wholegrain wrap with only 10.7g carb per wrap, 16g of protein and Low GI27.
The Herman Brot Protein Crackers are available in three flavours, and also includes impressive nutritional figures.
Cheese – 16.9g protein per serve, 10.4g carbs, GI22
Olive – 13.7g protein per serve, 11.1g carbs, GI29
Mediterranean – 16.4g protein per serve, 14.3g carbs, GI31
"We spend a lot of time researching and developing our products and that's why some products, such as the low carb wraps have taken longer to perfect and launch into the market," explains Herman Brot's Christian Coenen.
"The majority of people consider wraps healthier than bread. This is not necessarily the case, however, to make a sandwich you need two slices of bread, while you can enjoy a delicious wrap using one wrap, which in turn makes the carbohydrate intake and calories lower."
Mr Coenen adds: "We are also confident that our new Protein Crackers will be well received and a definite hit with people looking for a protein snack on the run, or some delicious and nutritious crackers for dips and antipasto platters."
These products will be available in the majority of Independent Supermarkets such as IGA, Foodland and Foodworks stores as well as selected Health Food Stores, pharmacies and health clubs as soon as possible.
For more information and to shop online, visit hermanbrot.com.au.