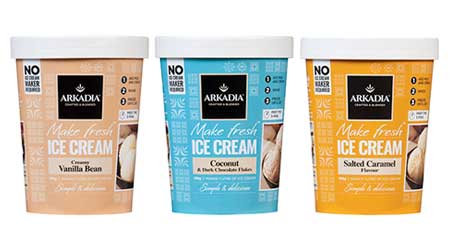 Arkadia Make Fresh Ice Cream is set to launch nationally in Woolworths this spring and claims to take the hassle out of making delicious homemade ice-cream. 
The company says its ice-cream mix is simple and delicious, and requires no special equipment. According to the company, making ice-cream at home used to be a long and laborious task, leading to 90 per cent of Australia's ice-cream makers being tucked away at the back of the pantry. However, with Arkadia Make Fresh Ice Cream, says the company, those days are gone – simply add milk and cream, whisk and then freeze until set.
The mixes are available in five flavours: Creamy Vanilla Bean, Chocolate, Salted Caramel, Cookies & Cream, and Coconut with Dark Chocolate Flakes.
Look for the range in the dessert aisle (near the jelly) at Woolworths stores nationally from mid-October (RRP $5.99).