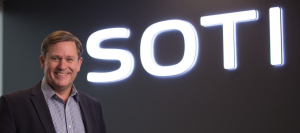 2020 was one of the most tumultuous years in history, with the retail sector being challenged like never before and having to rapidly adapt to an ever-changing market during Covid-19.
By SOTI VP of Sales APAC Michael Dyson. 
With this, however, came a surge in retailers seeking new innovations to stay ahead of the game and cater for the changing demands of the modern consumer.
In 2020, global retail growth fell by 5.7% and as a result of the pandemic, it has been predicted that an overall loss of revenue could reach $2.1 trillion. At the same time, e-commerce has subsequently boomed. In Australia, total online sales averaged a growth of over 67% during the pandemic from March – October 2020.
However, as the country begins to pull itself back into a 'new-normal', the significance of brick-and-mortar stores is still sizable. The only catch now is that retailers need to innovate their retail stores to align with today's consumer demands for a seamless omnichannel retail experience.
Retailers need to adapt to changing consumer expectations

Since the pandemic, there have been considerable changes to the way consumers shop and what they expect from the experience. The biggest expectation consumers now have is for retailers to have integrated technology at their disposal along all lines of the sales chain.
To cater for these expectations, and to thrive in this rapidly shifting and evolving market, retailers – both brick-and-mortar and online – have moved fast to Covid-proof their operations by investing in technology.
Mobility and experience-enhancing technology is as important in-store as it is online

The brick-and-mortar retail sector must recognise that there is a need to invest in innovation, which provides a seamless customer experience that is in line with and competitive with e-commerce. One of the most crucial elements for brick-and-mortar retailers successfully aligning the use of technology with consumer expectations, is for them to understand the important role technology plays in the in-store experience.
Digital signage and kiosks, IoT-enabled stores, cloud connectivity, mobile POS (mPOS) systems, Near Filed Communication (NFC) technology and analytics, are all tools at the disposal of brick-and-mortar retail stores that want to create the immersive and interactive experiences their customers expect.
Today, these kinds of in-store technologies are seen as a necessity rather than a nice to have. In fact, SOTI research found that the vast majority of Australian consumers now want to use cashless electronic payment methods in-store once the pandemic ends, with over 37% stating they would be more likely to return to a store that was a technology innovator. Before the pandemic, the world of retail was already swaying towards a complete shift to mobility and cashless trade, and with the pandemic only fast-tracking this revolution, retailers no longer have an excuse to not equip themselves with the most up-to-date technology.
The importance of trust and security for mobile technology

Though technology has quickly become a necessary staple for any modern retailer, there is a large amount of consumer trust that is often lost when this technology is not safe and secure. To compete in the future hyperconnected retail environment, both in-store and online retailers need to give consumers the peace of mind that their data and money is safe. If the retail sector wants to move to a multichannel, always-connected consumer experience, it needs to tackle trust. If consumers are apprehensive about payment and data sharing from their own devices which are connected to their home networks, how much more hesitant are they likely to be in-store?
Security risks additionally pose a rising threat to retailers who continue to gather more and more sensitive consumer data.
For Australian consumers to really have faith in in-store tracking technology, they need to be confident their data is always being protected.
For retailers to maintain credibility in this area, they must implement an Internet of Things (IoT) management solution with strong security credentials that allows them to have visibility and management of all business-critical IoT endpoints, including in-store tracking technology, from a centralised point.
Utilising in-store technology to simplify the customer shopping experience and gain a competitive advantage

In a such a tight retail market, in which competition with e-commerce is fierce, retailers who can persuade customers to linger longer and to spend more via the use of technology would gain a significant advantage over the competition. According to SOTI research, 83% of Australian consumers said they were likely to spend more time in stores which used technology to offer a better user experience. This strengthens the notion that by leveraging technology in-store to enhance the shopping experience, retailers can continue to power the retail recovery.
Technology enables retailers to not only drive traffic to their online platforms, but also footfall to their brick-and-mortar stores, using intelligent mobile engagement. This helps to support an integrated in-store experience using mobile technology that communicates with in-store access points, digital signage and more.
A mobile-first strategy facilitates a retailers' ability to capture, store and process online and in-store data from mobile devices in a way that is both compliant and enables a data driven customer experience. This helps to build a personalised mobile, online, and in-store retail experience using technology that consumers can trust, thereby retaining their confidence in a retailer's brand.
All in all, the key to retailers succeeding on all ends of the sales chain relies on them ensuring their online and in-store presence is aligned with consumers' expectations for a seamless, faster and more efficient omnichannel experience. Within today's ever-changing retail landscape, retailers' drive to invest and restructure their in-store and online capabilities with technology innovations will give them the competitive edge they seek.

About Michael Dyson

Michael Dyson is Vice President of Sales, Asia Pacific at SOTI. With more than 30 years' experience in Sales, Business Development and Executive Management Roles, Mr Dyson has built long-term relationships with partners and clients based on trust and the ability to identify when and where I can genuinely add value. Over the past 15 years, he has worked with the technology integrator and reseller community to develop and implement mobility solutions for mission and business critical applications. With extensive experience across the Emergency Service, Utility, Transport and Logistics and Field Service sectors, he understands the challenges that working in harsh and remote environments can present and the importance of being able to successfully deploy, manage and support technology that is fit for purpose.
About SOTI

SOTI is the world's most trusted provider of mobile and IoT management solutions, with more than 17,000 enterprise customers and millions of devices managed worldwide. SOTI's innovative portfolio of solutions and services provide the tools organisations need to truly mobilise their operations and optimise their mobility investments. SOTI extends secure mobility management to provide an integrated solution to manage and secure all mobile devices and connected peripherals in an organisation.