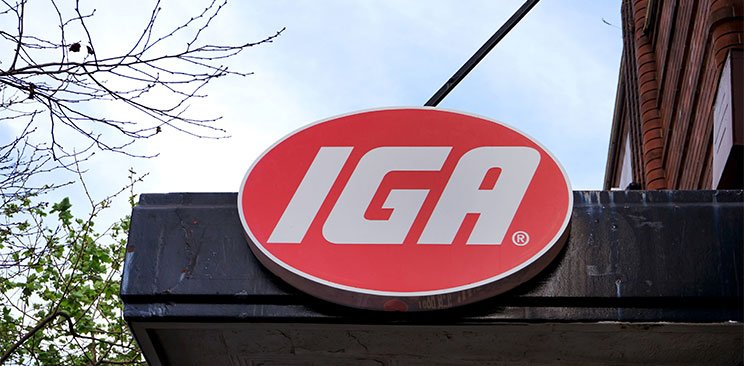 Metcash National Senior Category Manager Michael Thompson is proud of IGA and the ongoing initiatives within its huge network of supermarkets to support local communities and promote fresh produce and healthy eating. He took some time out to talk to Retail World journalist Adam James about these initiatives and current shopper trends.
"Our network of 1,400 independent stores support a variety of local sporting clubs, schools and charities via our Community Chest Program," he said. "From something simple like new equipment for the local soccer team, fundraising for a surf lifesaving club, or providing a healthy breakfast club, IGA sits at the heart of the local community.
"As well as the Community Chest Program, the IGA Family Program allows us to take the same values and mission of supporting local communities to a larger audience. We aim to foster and support an online  community focused on delivering a healthier and happier Australia and provide communities with access to a range of educational tools on how to live a healthier lifestyle, including recipes for healthy eating options.
"Our members receive exclusive online content from our nutritionists and health and wellbeing experts, designed to keep parents up to date with all things related to a healthy lifestyle, including ways to get more active and how to get the kids to eat more veggies. The program has been in existence for two years, with more than 20,000 families already registered and receiving materials to help them live healthier lifestyles."
The program also links up with the Stephanie Alexander Kitchen Garden Foundation (SAKGF) to provide the IGA retail network with an avenue to support onsite gardens and kitchens in schools.
"SAKGF assists schools to develop a program that teaches students how to grow and harvest produce and cook delicious food, helping to establish strong fresh food principles from an early age. " Mr Thompson said. "Since the commencement of the partnership in July 2017, we have supported 30 school kitchen garden programs across Australia."
He adds that the IGA network also works with Metabolic Symphony – which provides health and education professionals with resources to help children and adolescents increase knowledge and appreciation of their metabolism – on delivering IGA's Body Basics series, which he describes as "an easy-to-follow collection of articles based on current science and insights for good lifestyle management".
"The series provides strategies to get back on track, and tools to teach your children about the basics of healthy living," Mr Thompson said. "The information has been prepared by accredited dietitians, diabetes educators and teachers with no agenda other than to set families on a path to lifelong physical and mental health.
"We believe our business has a role in supporting healthy communities through the development and ranging of nutritious healthy products, and through creating programs and educational tools that help all consumers make healthy food choices. The development of our Community Co range of products has enabled us to deliver a quality private-label offer that excludes artificial flavours and colours. The brand also supports our local communities through the donation of a portion of sales proceeds to the IGA Community Chest Trust Fund."
IGA DETERMINED TO CUT PLASTIC USE
A hot topic within supermarkets these days is the debate on the use of plastic on fresh produce, as well as the endless debates surrounding single-use plastic bags. Mr Thompson says IGA is working hard to help solve these issues. "
At IGA we're committed to finding improved solutions to reduce, reuse and recycle," he said. "We recognise our ability as a network of retailers to significantly decrease the amount of plastic being used in Australia and, following on from the elimination of single-use plastic bags at checkouts in our 1,400 stores Australia-wide, we're working with our suppliers to reduce our plastic usage and increase the recyclability of our private-label packaging.
"Metcash is part of the Australian Packaging Covenant Organisation's Soft Plastic Working Group, which was established to collaborate with government and industry partners to reduce the use of soft plastic. We're working closely with this group to develop innovative solutions to repurpose soft plastic, including liaising with our suppliers to support the reduction of plastic packaging across our private-label and fresh-product range and meeting or exceeding government expectations to make all packaging recyclable, compostable or reusable by 2025."
AVOCADO AND BERRIES LEAD IGA SHOPPING TRENDS
Shopper habits have changed considerably in the area of fresh over the past 10 years, according to Mr Thompson. He attributes a surge in demand for fresh products to shopper demand for 'now' rather than 'later' foods.
"One key change in shopper trends over the past decade is fresh cuts [pre-packaged salads], which have grown substantially," he said. "Also, with ongoing education and awareness, [appreciation of] the health benefits of particular fruits and vegetables, such as blueberries and raspberries, has grown significantly. Avocado has become a key product on the shopping list, due to the above.
"A trend towards more Asian-style cooking with leafy Asian vegetables and fresh herbs is growing demand, and snacking fruits have grown, too, with the development of more snacking varieties of tomatoes. Fruit and nuts continue to grow as more people are understanding the benefits of these products in their daily diet.
"Shoppers are also buying more for now and less for later, with higher frequency in their shopping habits."
When asked to say what was still the biggest fresh seller, there was no hesitation. "Biggest seller?" Mr Thompson said. "No different to most supermarkets: bananas. But avocados and berries, specifically blueberries, continue to grow and are not far behind."
He agrees that Australians are adopting healthier eating habits, which is having a direct impact on what products people want to buy. "That would be a stat that is relevant to everyone, not just IGA," he said.
"The volume of lifestyle TV shows and the desire to pack a healthy lunch for children at school has an influence now on what people put in their baskets and trolleys," Mr Thompson said. "People want to eat healthy, but don't have the time to spend in the kitchen, so they look for part solutions, hence the growth in fresh cuts; fresh produce has benefited from this.
"Even with all the good news and growing trends we see in fruits and vegetables, our challenge still remains to help shoppers understand better why these foods are so important and how to keep them top of the shopping list as a significant part of their daily dietary intake, to ensure we keep growing a healthy Australia."