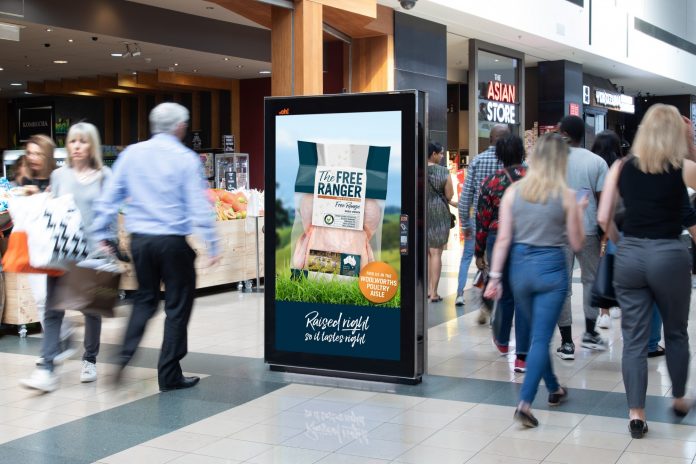 Success is in the air after a collaborative campaign between Ingham's and oOh!media.
Ingham's has seen an increase of the whole chicken category by 27%, following a recent audience-led campaign that ran exclusively on oOh!media's network.
The campaign was designed to drive awareness of 'The Free Ranger' in the key markets of NSW and Victoria and planned by using Better Ways to Buy planning tool, Smart Reach.
Rather than only running the campaign near retail stores, oOh! Worked closely with media agency Bohemia to target category buyers based on actual transactions mapped to each of oOh!'s signage locations.
This allowed the brand to maximise reach to the right audience across digital and classic small format street and retail assets.
The new approach attracted valuable new customers and outperformed the category – 72% of Ingham's buyers were new to the brand, with the proportion of new buyers 50% higher for Ingham's compared to the broader category.
Additionally, the overall number of buyers of The Free Ranger surged 30% compared to just a 3% increase for the whole chicken category.
"This new platform and data set from oOh!media is the future of Out of Home," says Chief Marketing Officer at Inghams Group, Seb Brandt.
"My biggest nervousness around outdoor in the past has stemmed from wastage, high eyeballs and low cut through. The Free Ranger campaign has proven that we can use outdoor as a targeted message for a new and emerging brand with specific geotargeted distribution. We are looking forward to using oOh!'s Smart Reach planning tool again soon."
oOh!'s Chief Sales Officer, Tim Murphy adds: "The power of Out of Home to reach audiences at scale has reached a crucial point, where we can clearly demonstrate our network's ability to drive campaign success.
"We look forward to offering up the Better Ways to Buy planning and reporting approach for all clients wishing to plan to the attributes which are proven to maximise their ROI."