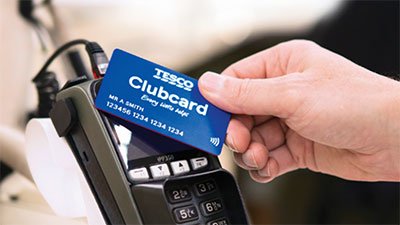 Thames Card Technology has completed a project with Tesco to launch the UK's first contactless loyalty-card program. Several million cards are now in the hands of customers and many more will be issued over the coming months.
With 66 per cent of global shoppers enrolled in loyalty programmes (Nielsen) and cardholders spending 12-18 per cent more than other customers (Accenture), loyalty schemes are a key differentiator for UK retailers. The completely redesigned card is claimed to increase security and value for customers, and gives Tesco greater brand recognition and actionable data.
"Tesco Clubcard is one of the most uniquely helpful things we do and it's our way of saying thank you to our customers for shopping with us," Tesco Clubcard Project Manager Simon Pepperdine said.
"We've listened to customers and we're delighted to have made Clubcard even simpler and easier to use by working in partnership with Thames to introduce a brand-new contactless card."
To make the new Clubcard stand out in increasingly full wallets, a new PVC core colour was developed to match the red of the Tesco brand, contrasting with the deep blue of the face and rear of the card. Thames has also carried this design to the manufacture of the Clubcard's companion loyalty keyfob. Customers can also use the card in three different ways at the point of sale, either tapping using contactless, swiping the magnetic stripe, or scanning the barcode.
"Contactless payments are proving to be a huge hit with consumers," Thames Card Technology Managing Director Paul Underwood said. "So it's exciting to apply its security and convenience to loyalty."
Tesco has also made significant improvements to the Tesco Clubcard app. New customers can now use it to sign up to Clubcard while they shop in store, and existing customers can access their vouchers at the checkout, at the touch of a button.
As part of the changes, Tesco plans to add to the 400-strong range of Clubcard Reward Partners currently available to customers. Hotels.com and Uber are the latest partners to join the scheme, which already includes days out, weekend breaks, holidays and more.