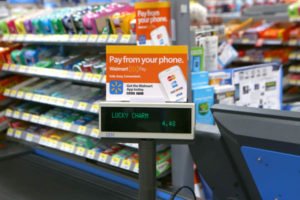 Walmart Pay, a safe, easy and convenient way for customers to check out with their smartphones, can now be used at more than 4,600 Walmart stores across the US.
Available through the Walmart app, Walmart Pay works with any iOS or Android device, at any check–out lane, and with any credit, debit, prepaid or Walmart gift card.
Walmart US Senior Vice–President of Services Daniel Eckert says Walmart Pay is like no other mobile payments solution available today, expanding access to mobile payments and improving the way customers check out.
"There is something very powerful about the ease and simplicity of Walmart Pay," he said. "What's even more powerful, though, is what this means for our customers. We want to make every day easier for busy families. We're connecting all the parts of Walmart into one seamless shopping experience with great stores, easy pick–up, fast delivery, frictionless check–out and apps and websites that are simple to use."
Walmart Pay is one of the newest and most powerful additions to the Walmart app, which ranks among the top three retail apps in the Apple and Google app stores, with more than 20 million active users. The app was built with an emphasis on making shopping faster and easier for customers – from refilling a pharmacy prescription to building a gift registry and finding where an item is in–store. The app also makes it easy for customers to shop the millions of items on Walmart.com
"Walmart Pay is just the beginning," Mr Eckert said. "We're building deeper relationships with our customers across our ecosystem and are looking forward to delivering new tools like Walmart Pay that allow them to use the Walmart App as their remote control for a faster, more convenient shopping experience."