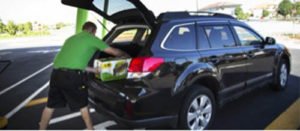 Online grocery shoppers in the US may have their goods delivered by a third party service, such as Uber, Lyft or Deliv, with Walmart trialling new ways to make shopping easier.
Walmart announced the trial at its annual shareholders meeting last week. It will begin with tests – expected to start within the next two weeks – of grocery delivery through Uber in Phoenix and Lyft in Denver.
These are in addition to the less promoted pilot involving Deliv and Sam's Club – Walmart's chain of membership-only retail warehouse clubs. The pilot began in March with delivery of general merchandise and grocery for business members in Miami.
Walmart Global eCommerce EVP and Chief Operating Officer Michael Bender explained in a blog how the service would work for Walmart grocery customers.
"A customer in one of the test locations places their grocery order online and selects a delivery window," he wrote. "Our personal shoppers, highly-trained Walmart associates, will carefully select and prepare their order. Then, our team may request a driver from one of these services to come to the store, pick up the customer's order, and take it directly to the customer's location. It's all seamless to the customer. They pay us our normal $7-10 delivery charge online, and make no payment to the driver. We'll also let them know their order is being delivered by a driver from Uber or Lyft."
At Sam's Club, the process is similar, with personal shoppers preparing the orders for business members and having their order delivered to their door by Deliv.
"We're thrilled about the possibility of delivering new convenient options to our customers, and about working with some transformative companies in this test," Mr Bender said. "We'll start small and let our customers guide us, but testing new things like last-mile delivery allows us to better evaluate the various ways we can best serve our customers how, when and where they need us."