Weight loss program Juniper is making its debut in brick-and-mortar stores, launching a number of new products in Woolworths.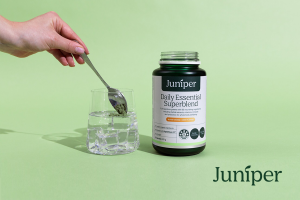 Juniper is promoted as an online science-backed medical pathway to help Australian women achieve sustainable weight loss using practitioner-prescribed treatments and dietitian-led health coaching. In two years, it has helped over 100,000 women in Australia achieve weight loss results.
Extending beyond its online sales channel for the first time, Juniper has launched four products in select Woolworths stores:
Smooth Swiss Chocolate and French Vanilla Protein Nourish Shakes (RRP $55). These whey-based shakes are "packed" with "high-quality" ingredients with the "nutritional benefits of a balanced meal". Each shake is 210 calories and contains 29.2g of "high-quality" protein, 25 vitamins and minerals, plus Maca root powder, and probiotics.
Daily Fullness + Digestion Blend (RRP $40). This powder is a blend of two prebiotics including Sunfiber, which is said to have been clinically proven to keep you fuller for longer and enhance satiety, working by slowing down the digestion of food, positively impacting weight loss. This excipient-free formula is described as having no taste and can be mixed into a variety of foods and beverages.
Daily Essential Superblend (RRP $50). A "nutrient-rich superblend" of greens that contains over 65 "high-quality" vitamins, minerals, biotics, and whole-food-sourced nutrients for "optimal wellness". This natural blood orange and mint flavoured blend is claimed to help promote overall wellness by improving gut health, immunity, and energy.
"We're incredibly proud to be partnering with Woolworths supermarkets to redefine the way thousands of Australians' approach healthy eating," says Juniper Head of Omnichannel Brands Cade Fleming.
"Now more than ever, consumers are looking for accessible, evidence-based solutions that integrate seamlessly into their life, while being supported along their health journey."