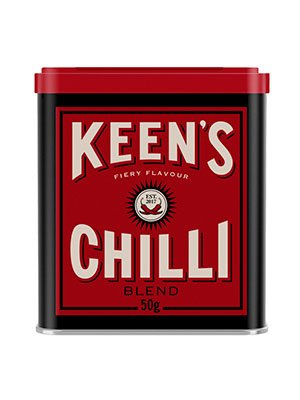 Keen's newest addition to its flavour range that adds all the heat consumers could like to their favourite dishes is Keen's Chilli Blend.
According to Keen's, its Chilli Blend is a fusion of chilli varieties that offers a balance of heat and flavour. Consumers can add as much or as little as they like to suit their taste preferences.
The company has kept with its traditional packaging, using red (chilli) to identify the newest addition as opposed to the original yellow (mustard) and orange (curry) tins.
Keen's has also launched a special free downloadable cookbook to accompany the launch of the Chilli Blend, showcasing 21 classic and new recipes utilising the spices. Examples include Zucchini and Lentil Meatballs Arrabiata, Oven Baked Buffalo Wings, and Chilli Beef.
Keen's Chilli Blend is available for RRP: $3.69.