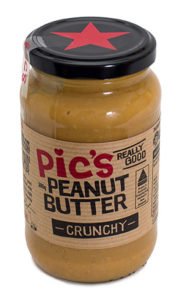 New Zealand owned and operated company Pic's Peanut Butter has been granted an Australian country-of-origin stamp as it exclusively uses peanuts from Kingaroy in Queensland.
"We want to be the best-loved peanut butter in the world, so it's a no-brainer choosing to use the best peanuts on the planet," Pic's Peanut Butter Founder Pic Picot said.
Pic's Peanut Butter uses Australian-grown peanuts sourced from the Peanut Company of Australia, and roasts and packs the peanut butter into glass jars in Nelson, New Zealand, where it is owned and operated.
Pic's Peanut Butter is available in a 380g jar with an RRP of $7.49.