Kraft Heinz has launched a new range of frozen vegetarian snacks, adding a "modern twist" to traditional frozen snacks and sides for sharing.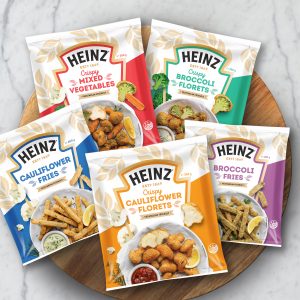 The Heinz Vegetarian Frozen Snacks range is available in five varieties:
Heinz Cauliflower Fries (400g)
Heinz Broccoli Fries (400g)
Heinz Crispy Broccoli Florets (350g)
Heinz Crispy Cauliflower Florets (350g)
Heinz Crispy Mixed Vegetables (350g)
Kraft Heinz Chief Marketing Officer ANZ Shane Kent says vegetarian snacks are what consumers are increasingly looking for in modern frozen snack options.
"With an increasing number of vegetarians, pescatarians and flexitarians in Australia, we're pleased to be able to tap into this trend and deliver more variety for customers in the frozen category," he says.
"As a tasty occasional snack or side, this range is great to share around with friends and family, particularly if some states start to emerge from lockdowns ahead of the summer entertaining season."
The Heinz Frozen Vegetarian Snacks range is now available nationwide at Woolworths and independent retailers for a RRP of $8.