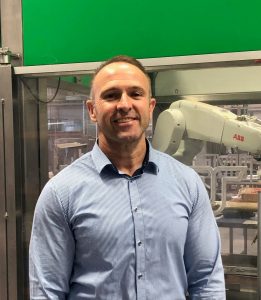 Established in 1944, the 100% dedicated almond processing and marketing company, Almondco Australia is one of the country's most successful horticulture co-operatives.
By HMPS Sales Manager Glen Foreman. 
Almondco's integrated supply chain handles more than 85% of Australia's almond growers while its brand is globally recognised for supplying premium quality bulk almond products and ingredients.
From almond harvesting through to a finished product, the supply chain is remarkably very labour and waste efficient. Almondco utilises almost 100% of the almond through its various sorting and value adding processes that result in a broad almond product range that reaches many key health food ingredients and traditional market segments.
HMPS meets the brief 
Almondco looked to HMPS to deliver an integrated turnkey processing system for its new $25 million expansion at its main regional plant in South Australia. The company was experiencing heightened growth due to increased demand for plant- (almond) based products and needed to scale up their value-add production.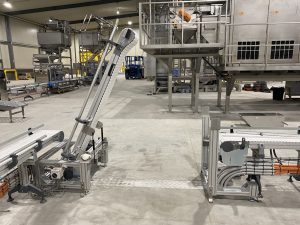 Almondco needed to make provisions to meet current and future demand. As such, HMPS was selected to help significantly scale and automate their value-add production volumes to cater for the forecasted production growth over the next five years.
No stranger to complex packaging equations, proudly Australian packaging machine producers, HMPS handled the sourcing, project management and integration of the entire system.
Almondco wanted a single, local point-of-contact for the project which included full integration of all new equipment such as carton erectors, poly bag inserters, check weighers, in-line metal detection and robotic palletising and conveying systems.
Almondco Managing Director Brenton Woolston says the business went through a competitive tender process and was delighted when a SA based business was awarded the major integrated equipment and process work. He commented that the Almondco project team and the HMPS team had been working closely to deliver the key project outcomes. Mr Woolston was appreciative for HMPS professionalism and commitment to complete the project within budget and tight timelines, particularly due to Covid disruptions.
Project challenges 
There were several key learnings such as connection, integration, and communication across dozens of individual pieces of equipment.
This project was also subject to Covid-19 delays, but the value of this project lies in joint flexibility, ongoing communication and HMPS commissioning every single piece of equipment on the line. This includes the installation and commissioning of European components as suppliers weren't able to get into Australia.
Key highlights 
The completed system can produce 400% more value-add almond products per hour across multiple dedicated lines with latest operating and food safety quality systems.
In addition, HMPS installed HMPS Connect – the company's real-time remote operating system for instant reporting, troubleshooting, maintenance, and off-site control. Following the project's success, HMPS was granted a maintenance contract, so we now handle maintenance on the new and original line.
Winning a project of this size was undoubtedly the greatest highlight. As a local business, working with a local SA customer on a project that supports the local economy is a major win. It's the opportunity to inspire a sense of community, collaboration and to showcase what we do.
To watch the fully automatic robotic palletiser in action, click here.
About Automated Packing Systems by HMPS, Propac Industrial and NOW Integrated Machinery 
Turnkey automated packing solutions: whether you want to bag it, box it or wrap it – we've got you covered.
HMPS has joined forces with Propac Industrial to bring you a combined experience of more than 60 years in packaging automation. Together we are stronger and more innovative allowing for a seamless project.
From raw product into bags, the bag-in-box, cartoner and case packer right through to the final palletising and stretch wrapping application – our quality packaging solution means we can provide solutions for the whole line giving you one point of contact for your next project.
With 24/7 support and factory trained engineers on-hand, we believe in collaborative relationships to ensure the best possible outcome for you, our customer.
BAG-IT – BOX-IT – WRAP-IT