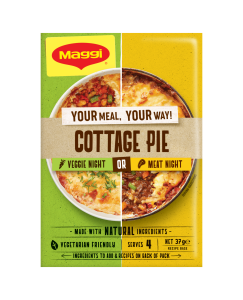 One in three Aussies are looking to limit their meat consumption and balance their weekly meal preferences.
This means that there is clear-cut evidence that there's interest in simple meat-free alternatives.
The team at MAGGI has released a range of vegetarian-friendly Your Meal Your Way Recipe Bases, that allow families with varied-meal preferences to eat dinner together.
Made from natural ingredients with a blend of real herbs, the new range of recipe bases include Cottage Pie and Spaghetti Bolognese and dishes with familiar flavours like Chow Mein and Chili Con Carne.
"The MAGGI team understand the interest in meat-free alternatives continues to grow and recognise that Aussies are increasingly conscious of their food choices, particularly when cooking at home," Head of Marketing Foods at Nestlé Nicole Fox says.
"MAGGI Your Meal Your Way Recipe Bases offer more choice to create flavoursome and authentic meals that bring the family together, giving home cooks the flexibility to enjoy the best of both."
The bases are designed to 'take the stress and time pressure out of weekly dinner planning and preparation'.
The new MAGGI Your Meal Your Way Recipe Base range is available at Coles, Woolworths and Independent supermarkets nationwide. Its RRP is $1.69.
Packs are recyclable via REDcycle bins in participating supermarkets.