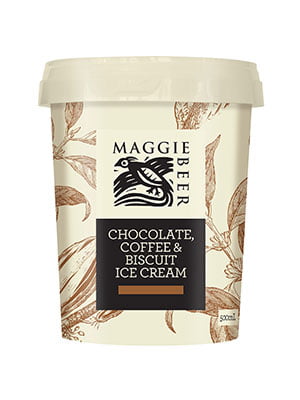 Maggie Beer's range has grown to include what it calls "a contender for our new favourite thing" – Chocolate, Coffee & Biscuit Ice Cream.
This newest addition to the range combines "decadent" chocolate ice-cream with the crunch of sweet chocolate biscuits and a Vino Cotto coffee swirl.
"I've always loved the ritual of a little something sweet with coffee – a biscuit or a sneak of chocolate – which is exactly what comes together in this delicious ice-cream," brand founder Maggie Beer said. "What an indulgent way to enjoy coffee at the end of a meal."
Maggie Beer Chocolate, Coffee & Biscuit Ice Cream will be stocked by gourmet stores, independent supermarkets and Woolworths (RRP $9.99).