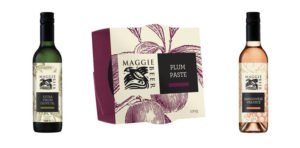 The existing range of Maggie Beer food products has undergone a packaging rebrand.
The rebrand will place the focus on the ingredients used in the products, featuring them more prominently on the product labels. The brand says that this reflects Maggie Beer's unwavering commitment to superior produce. This season's extra virgin olive oil will be the first of the range to wear the new look.
"My original food philosophy from all those years ago still stands today: to always cook from the heart, with seasonal ingredients at hand, never letting anything go to waste," Ms Beer said.
"This is the basis that underpins all that we did in the early years of business, and all that I still hold dear now. You will find seasonal produce as the unchallenged hero and inspiration for all my recipes and products, so when it came to a refresh, I simply looked to the part of the story that has never changed – letting the produce shine."