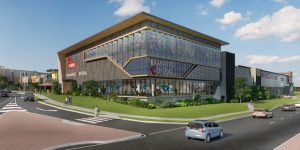 JMK Retail and DMA Partners have appointed Mainbrace Constructions to build Yamanto Central shopping centre, with construction set to commence in Spring 2019.
Next gen shopping centre
Dubbed to be the "next generation sub regional shopping centre", according to JMK Retail General Manager Vicki Leavy, Yamanto Central is expected to be anchored by a full line Coles, the latest gen Kmart, market hall, external dining precinct and more than 50 specialty shops.
"The idea for Yamanto Central was conceived in response to a rapidly growing local population, seriously under serviced by retail and dining options," Ms Leavy said. "[The] announcement of Mainbrace as builder brings the realisation of a much-wanted centre that much closer."
Mainbrace Queensland State Manager Duncan McAndrew says he is proud to be part of a project of this scale; one that has been four years coming.
"We've lived and breathed Yamanto Central for a number of years … we've enjoyed being part of the journey to date and we're grateful to now be entrusted to bring the concept to fruition," Mr McAndrew explained.
DMA Partners Managing Director Ryan Andersen added: "The community [in the growing region of south-west Brisbane] has been waiting so patiently for building to commence, and we thrilled to see so much support for this project."
JMK Retail and DMA Partners are said to be committed to applying lessons learnt from previous projects to develop the next generation of shopping centres with the best shopping experiences.
Leasing opportunities
Leasing opportunities at the centre are now available and interested parties are encouraged to contact Ewen Burg on 0415 339 103 or visit www.yamantocentral.com.au