Leading snacks and treats manufacturer Mars Wrigley Australia has announced it will be investing a further $28.8 million in its Ballarat factory to bolster its local innovation and manufacturing capabilities – building on more than $67 million invested since 2021.
The announcement comes as one of the factory's biggest innovations, paper-based packaging, begins to roll onto shelves across the country. In a world first for the company, Mars Wrigley's beloved MARS BAR®, SNICKERS® and MILKY WAY® will switch to the new packaging which can be recycled via traditional kerbside recycling bins.
Available on shelves from 10 April, the new paper-based packaging is a result of extensive R&D trials from Mars Wrigley's manufacturing site in Ballarat, and is set to eliminate more than 360 tonnes of plastic from the company's value chain.
This latest investment will enable Mars Wrigley to continue modernising its manufacturing operations through key equipment upgrades, paving the way for further development of sustainable packaging solutions and enabling greater innovation across its filled bar and Bitesize portfolios.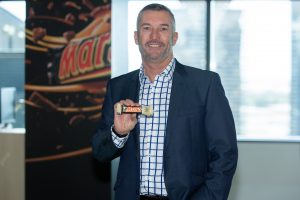 Mars Wrigley General Manager Andrew Leakey says, "I'm proud that we are leading world-class innovation in packaging and sustainability from Australia in what is a world-first for us as a business. We are the first Mars Wrigley market in the world to launch a recyclable paper-based packaging at this size and scale, and it speaks volumes to the commitment of our team locally who have been working on this project for almost three years.
"When we embarked on this journey, there wasn't a playbook or roadmap for us to follow but we were committed to finding a solution and cementing our position as a leader in sustainability. We trialled many different materials and approaches before we landed on our paper-based solution, but one thing that was non-negotiable for us was to ensure that consumers could recycle our packaging within our current recycling infrastructure. Seeing our bars on shelf now is an incredibly proud moment for me," Mr Leakey said.
Continued innovation and investment in sustainable solutions is critical to ensure that we can meet our 2025 packaging targets and commitments, as well as continuing to build Australia's modern manufacturing capabilities and the future of Australian-made products."
The importance of industry collaboration
With Australia's 2025 National Packaging Targets only a mere two years away, continuing to drive forward innovation in sustainability relies on the collaboration of business, industry and Government.
Mars Wrigley worked closely with Amcor, a global leader in developing and producing responsible packaging solutions, over the last three years to find a suitable material that would maintain the freshness of the product, whilst being recyclable in Australia's existing recycling infrastructure. Manufactured in Australia, the new packaging has enabled Mars Wrigley to reduce its virgin plastic use.
Amcor Director of Sustainability, Asia Pacific Richard Smith says, "We are proud to be partnering with our customers to deliver innovative sustainable solutions to the local market, helping Australian brands to meet the National Packaging Targets. We want to be part of the solution, advancing the development of our packaging technology to create a local circular economy for flexible packaging. We are excited to continue innovating with Mars Wrigley to meet Australian consumers' changing needs."
Coles General Manager of Sustainability Brooke Donnelly welcomes the introduction of Mars Wrigley's alternative packaging onto supermarket shelves and believes business innovation and collaboration are necessary to drive forward sustainable solutions for consumers.
"It's encouraging to see Australian manufacturers take steps towards providing sustainable alternatives to plastic packaging. In order to drive further innovation and achieve mutual sustainability goals, it's important for organisations to collaborate and work together. With businesses increasingly measured on their impact on society and the environment, sustainable innovation can be a key driver of both societal and commercial success," Ms Donnelly said.
As part of the company's commitment to its $1B Sustainable in a Generation plan, Mars Wrigley is committed both in Australia and globally to supporting and creating a circular economy where "packaging never becomes waste."
Mars Wrigley's new paper-based packaging will be available on 47g and 64g MARS BARs, 44g and 64g SNICKERS and MILKY WAY 45g at all leading supermarkets and convenience stores nationally from 10 April 2023.