Mater Baby Products has won the Bloggers Brunch, Bloggers Choice Awards – Best Community Initiative – for its support of Mater Little Miracles.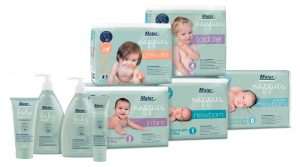 Mater Baby Products describes the Bloggers Brunch as "Australia's premier influencer marketing event, creating highly leveraged relationships between brands and a community of bloggers, influencers and social mums."
The brunch included a panel of 11 brands and 73 influential bloggers with a collective audience of 2.1 million readers.
Kids Business initiative
The Kids Business initiative, now in its ninth year, completed celebrations of the first Queensland Bloggers Brunch with the awards program. After the 'brand experience day', attendees placed their votes to nominate brands for a series of awards. The Bloggers Brunch Bloggers Choice Awards acknowledges both the bloggers' considered voice and the impression Mater Baby Products made.
Mater Baby Products says it's Australia's only product range developed by a hospital. The range, which includes skin care and nappies, has been co-created by Mater Midwives and Mums specifically for sensitive newborn skin. The co-creators say they aim "to deliver products of the very best quality and efficacy, and ultimately improve the health of the communities we live in".
Proceeds from Mater Baby Products support the charity Mater Little Miracles. The charity's goal is to give all babies the best possible start in life by helping Mater's medical and research teams help save the lives of Mater's tiniest and most vulnerable patients.
'Sharing the passion'
Director Mater Baby Products Tania Alves says the Bloggers Brunch was a great opportunity for Mater Baby Products to tell its unique brand story.
"The bloggers were high quality and engaging, and we were able to share with them our strong connection to the community through Mater Little Miracles," she said.
"It was a really great moment and continues post the event, with the bloggers trialling the Mater Baby Products with their own babies, and sharing the passion for these great products and community initiative with their followers across Australia."
Popular blogger Bridget from Midnight Mums says she loved meeting the Mater team.
"I absolutely loved learning about Mater's specifically designed nappies by midwives and mothers," she said. "A lot of new mothers in the Midnight Mums' community will be very interested to learn about these and their health benefits to little ones."
Kids Business Managing Director and founder of the Bloggers Brunch Christie Nicholas says she was thrilled for Mater Baby Products.
"We're delighted the event played such a big role in introducing Mater Baby Products to this audience with direct access to millions of their potential customers," she said. "The Bloggers Brunch Bloggers Choice Awards celebrates the authentic feedback from influencers attending this unique event."