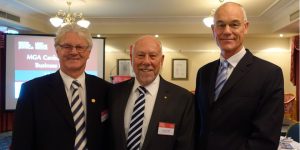 MGA's long-serving Director Rod Allen has officially retired from all MGA Board of Directors duties, the organisation has announced.
He was Director for more than 20 years and dedicated Board President for more than 15 years.
From statewide to nationwide
MGA made the news official at its Industry Business Breakfast at Leonda Receptions in Hawthorn, Melbourne, on November 21. More than 120 MGA members, corporate partners, industry stakeholders and friends of MGA, heard the news first hand.
The organisation credits Mr Allen with taking the MGA from a Victorian state-based employer organisation with 375 members in 2005 to a national organisation in 2018. Today, MGA has more than 2,600 members, more than 115,000 staff, and total sales in excess of $14 billion.
'Highly respected'
In a heartfelt statement, MGA CEO Jos de Bruin said: "Rod decided it was time to step down and hand over the baton to another MGA Board Director.
"Rod has been the face of all MGA members (family enterprises and private businesses) when meeting with state and federal politicians, as well as regulators such as the ACCC."
Mr de Bruin praised Mr Allen for what he called his "approachability and easy engagement style".
"This," Mr de Bruin continued, "together with his calm, measured and inclusive leadership approach, contributed toward a highly respected, strong, cohesive and collaborative MGA Board of Directors.
"While being a rock-solid MGA leader and dedicating much time and resource to MGA, Rod, together with his business partner Ron Corrigan, have been running a successful local supermarket in Mount Martha, Victoria, for 30 years.
"We thank Rod for his generous friendship, his time and his unwavering commitment to the prosperity of MGA's members."