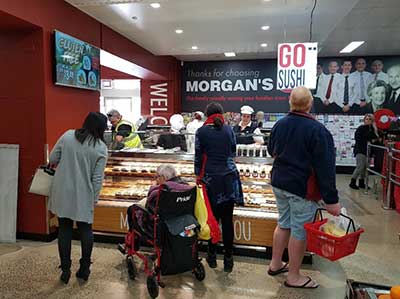 Victorian store Morgan's SUPA IGA Melton has teamed up with sushi company Go Sushi to combine "delicious product" with an "enticing in-store atmosphere".
On entering the store, customers are now greeted with sushi chefs busy making sushi rolls, lunch and dinner packs, and more.
Brothers Neal and Peter Morgan, the store's owners, say they were looking for continued growth via a strong point of difference and enhancement of their fresh-food offer. Not inclined to offer shelf-based sushi, the brothers saw the opportunity to produce the "wow effect" among customers.
Morgan's SUPA IGA Melton Go Sushi Kiosk officially opened on October 20.
Neal Morgan says he was a little nervous about the idea at first, but after months of planning and getting to know the team at Go Sushi, he and his brother are more than impressed with the team's guidance, professionalism and expertise.
"The layers of support incorporating all facets of operating procedures, food safety, admin, fit-out, equipment, training, marketing, social media, innovation and ongoing auditing was way more than we expected and we're delighted with the end result," Neal Morgan said.
"Sales are building every day and we'ave received only good feedback from repeat customers to date – the quality of our sushi is being talked about around town. There's no doubt in my mind that making "good" sushi is quite a science and not something I'd recommend without the guidance of a skilled franchisor like Go Sushi. We're so impressed we have another kiosk on the go and looking forward to a long-term relationship with the team from Go Sushi."
Pacific Retail Management, the umbrella company under which Go Sushi sits, is bringing the concept of fresh food made on-site to supermarkets throughout Australia and internationally.
With sushi demand in Australia on the rise as well as shopping-trip frequency up to almost three times a week for the average shopper, Go Sushi says it has achieved  success on the back of consumers enjoying lunch on the go while shopping, as well as buying lunch in advance of work.