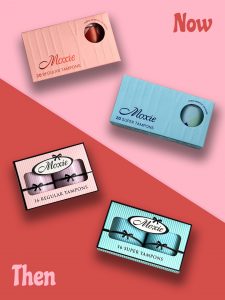 To mark Moxie's 13th birthday, the company has relaunched its tampons in new-look packs.
In line with consumer needs and wants and as a result of Moxie's extensive market research, Moxie's new packs now include one (previously two) unique and discreet chic tin. The tin has been designed with minimal branding so that it can easily be re-filled or up-cycled.
Each pack will now also contain 20 tampons (previously 16), "adding even more value", says Moxie co-founder Mia Klitsas, for the customer.
According to Moxie, every detail; from the slick outer pack embossing to the informative inner leaflet (featuring 'period hacks' and other useful info), has been meticulously considered and designed to bring an extra touch of luxe to a product type and category that has previously often been deemed clinical.
"Our glow-up isn't just about pretty packaging or what's on the outside – quality and sustainability are important factors in our product development process, too," Ms Klitsas said.
Unlike many other products on the market, Moxie says it has never used plastic wraps on its outer packets and its new packaging remains 100 per cent recyclable.
Moxie's new-look tampons in Regular and Super variants are available for $5 each exclusively in Woolworths stores nationally.