Australian supplement brand, Muscle Nation, has successfully landed a deal with Coles to stock an exclusive Custard filled Protein Bar. High in protein and low in carbs and fat, the brand new Custard protein bars are now available at over 833 stores nationally.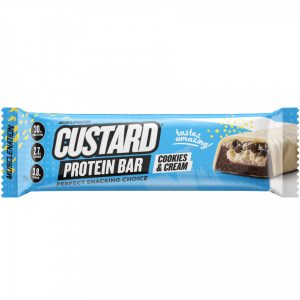 Muscle Nation's first foray into a national supermarket chain will see the brand positioned on health foods shelves alongside well established, international household brands like Aussie Bodies, BSC, Bounce and Musashi.
"In a first for the protein bar market," the bars include Muscle Nation's signature protein custard layered inside the bar to make it taste like a dessert while maintaining all the health benefits of a protein bar.
The bars are available in four flavours including: Cookies & Cream, Caramel Toffee, Choc Vanilla and Choc Mint.
The protein bars are designed to "keep you feeling fuller for longer; with a minimum of 25% protein in each bar," they are a great option for on the go snacking.
As well as the Custard protein bars, Muscle Nation has launched its signature Custard casein protein powder and the new Custard plant-based protein as part of the national Coles rollout.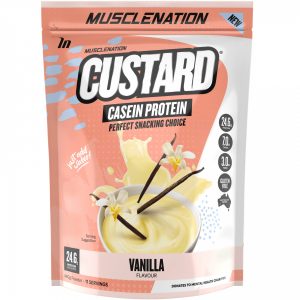 Casein protein provides a slow, sustained release of protein throughout the day or night. Just add water or milk for a ready-to-eat smooth custard with the added benefits of protein and fibre.
The Custard protein bars are made in Australia and the protein powders are packaged in pouches rather than the usual tubs which in turn uses 98% less plastic.
"Muscle Nation is committed to using its influence to encourage environmentally sustainable initiatives," with the company introducing its first sustainable activewear line with Hattie Boydle earlier this year.
Muscle Nation's exclusive partnership with Coles introduces more options for Australians to be able to access a healthy snack easily at their local store.
Muscle Nation co-founder Nathaniel Anthony says, "We have spent the past five years focused on building our community and business online so to see our brand on shelf next to well established, international brands is a great thrill.
"We have an amazing community who have helped us get to where we are today and we're excited to see where this next step takes us."
Muscle Nation co-founder Chris Anastasi says, "It is rare to see an Australian online retailer successfully secure a deal with a large national grocer so when the opportunity presented itself we wanted to do something special."
"The result is a new, exclusive range of protein bars, filled with our signature Custard protein which is very popular with our existing community.
"This new Custard protein bar has incredible texture, tastes amazing and is high in protein, fibre and low in carbs, fat.
"We're looking forward to introducing our speciality products to a whole new audience and conveniently in every neighbourhood nationwide is incredible."
Coles General Manager for Grocery Leanne White says, "Coles is proud to partner with an emerging Australian business to expand its health food offering to customers with a brand new range of protein Custard powders and bars, with six products exclusive to Coles."
"We have been following the Muscle Nation journey closely for some time and have been impressed by the way in which they have built their brand and product offering," she said.
"As part of our purpose to sustainably feed all Australians to help them live healthier, happier lives, we are delighted to support Muscle Nation who is paving the way with an innovative Custard protein range. We see great potential for them in the health food category, which has experienced substantial growth in the past 12 months as consumers focus on their health and feeling their best.
"The Muscle Nation range has started rolling out in stores and already we are seeing some fantastic results."
As part of the launch Muscle Nation are partnering with charity 'Do Good Movement' to donate a percentage of sales to mental health charities with a goal of raising $50,000 in the next 12 months. Muscle Nation's first goal is to fund the training and placement of 50 Lifeline Text Crisis Supporters through an 18-week course by Christmas.
Muscle Nation Custard Protein Bar 60g (RRP $4) is available in Cookies & Cream, Choc Mint, Choc Vanilla and Caramel Toffee.
Muscle Nation Custard Protein Powder 440g (RRP $30) is available in Vanilla and Cookies & Cream.
Muscle Nation Custard Plant Protein Powder 440g (RRP $30) is available in Double Choc and is "vegan friendly."