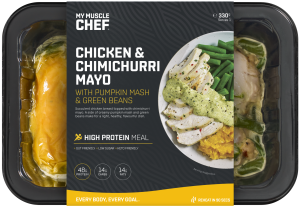 My Muscle Chef (MYMC) are launching six new meals with low calorie, low carb, keto and vegan-friendly options.
Each new meal promotes gut health, containing at least one third of the daily vegetable intake for gut-friendly nutrition to support the immune system.
"When we started My Muscle Chef, our goal was to make it easier for Australians to live active lives," says My Muscle Chef Co-Founder, Tushar Menon.
"Our loyal customer feedback continues to shape new additions with all new meals prioritising low calorie, low fat vegan, vegan-friendly options as requested by our MYMC community."
Mr Menon continues, "Now with 19 keto friendly and vegan meals, we are excited to deliver delicious, dietary-conscious options guaranteed to fuel busy lives and return time back to your day."
The new low calorie, carb and sugar additions guarantee over 30g of protein per meal:
Classic dishes: Mongolian Beef with Asian Greens and Brown Ricee; Chicken Biryani.
Keto-friendly: Dukkah Chicken Salad with Lemon Tahini Dressing; Chicken Chimichurri Mayo with Pumpkin Mash and Green Beans.
Light and lean meals: Lemongrass Turkey with Cauliflower and Quinoa Rice.
Plant-based: Vegan Chicken Satay with Cauliflower and Quinoa Rice.
"Each option is packed with fibre and wholegrains to nourish your body with those important daily nutrients, offering a sustainable solution to eat clean on the go," says MYMC Chef Head Nutrionist and Dietitian, Ryan Pinto.
The new meals are available to purchase at mymusclechef.com.au and at over 2000 stockists across the country including Caltex, BP, Harris Farm, IGA, WW Metro and Coles Local stores.