Coles has opened its latest "store of the future" in Sydney's inner west. Located in the new section of the redeveloped Marrickville Metro shopping centre, the store offers a range of exciting features, including:
squeeze your own orange juice station
pet food Scoop & Weigh bar, complete with doggie ice cream
premium coffee station by DC coffee roasters
mochi, mini gelato and macaron bar.
Customers will also be able to get fresh sushi, with hand rolls and sashimi prepared in-store by sushi specialists from Sushi Sushi.
Those preferring to shop online will benefit from dedicated Click&Collect bays located in the shopping centre's carpark
"It's great to launch a new store in such an iconic shopping centre," says Coles Marrickville Store Manager Chris Cauchi.
"[We're] helping to offer residents more choice and greater value on their groceries than ever before."
Supporting the community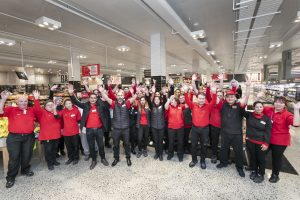 Coles says the new store has created 120 local jobs for the Marrickville community.
It is also supporting local groups including Gift of Bread and The Food Pantry Marrickville through Coles' longstanding partnership with SecondBite.
"We look forward to working better together with these two wonderful local charities to help reduce food waste and feed vulnerable members of our community," Mr Cauchi says.
The Food Pantry is run by Addison Road Community Centre in Marrickville and will be one of the first charities in Australia to establish a 'zero waste, zero emissions' kitchen for rescued food thanks to a $165,000 grant from the Coles Nurture Fund.
Sustainability a focus
The new Marrickville store will also champion sustainability with doors on most fridges, soft plastic recycling options for customers through REDcycle, as well as reducing food waste through partnerships with food rescue organisation SecondBite and its community partners The Food Pantry Marrickville and Gift of Bread.
Expansion of Marrickville Metro
As the population of Marrickville continues to grow and is predicted to reach around 437,000 by the end of 2021, Marrickville Metro has designed its new space to help meet the growing demands of the local community.
"Our vision for this development has been to create an inclusive space that adds convenience and lifestyle opportunities for those who live within our local community," says Marrickville Metro Centre Manager Dean Young.
Around 40 new retailers are joining the site, including a range of lifestyle, fitness, beauty and convenience offerings.
The fresh food precinct is anchored by the new Coles supermarket. Specialist Asian supermarket Miracle Supermarket and grocer Panetta Mercato are relocating from elsewhere in the centre and are joined by a variety of speciality stores including a new seafood store, butcher and chicken shop.
The established section of Marrickville Metro is also home to an Aldi and a Woolworths store that was considered to be the retailers' flagship site for innovative concepts when it opened in 2018.