Deli-Licious is hoped to disrupt the deli meat aisle in Coles nationally with a range of plant-based sliced products.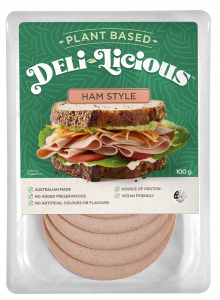 The new offering is promoted as a source of protein with no added preservatives and no artificial colours or flavours. The range includes:
Ham Style. "Smokey, savoury, and packed with flavour.
Chicken Style. "Tasty, savoury and so versatile".
Hungarian Salami Style. "Mildly spiced and extremely tasty".
Deli-Licious Senior Brand Manager Jaimie Gardner says the brand aims to inspire Australians to switch plant-based deli slices into their lunchtime sandwich or wrap and experience something new that not only tastes great but is sustainable for the planet.
"Our role is not to tell shoppers to give up meat. We want our range to inspire Aussies to sink their teeth into plant-based eating by switching out one simple ingredient, adding more plant-based foods into their everyday meals" she says.
Deli-Licious is available in the pre-packed deli meat aisle at Coles for RRP $6.90.