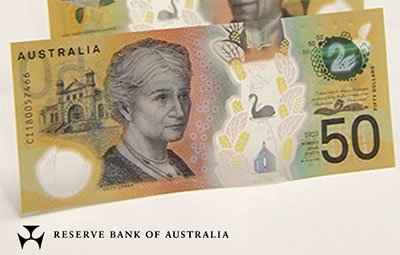 The Reserve Bank has revealed the design of the new $50 banknote, which will be released into general circulation in October 2018.
As with the existing banknote, the new $50 features portraits of Aboriginal writer and inventor David Unaipon and the first female member of an Australian parliament, Edith Cowan.
Governor Philip Lowe said: "Improved security and ease of recognition underpin the design of the new $50 banknote. With the release of the $5 and $10 during the past two years, we're confident the Australian public are becoming familiar with the new banknote security features."
These features include a top-to-bottom clear window that contains dynamic features such as a reversing number. There is also a patch with a rolling-colour effect and microprint featuring excerpts from David Unaipon's book and Edith Cowan's maiden parliamentary speech.
Mr Lowe said: "David Unaipon and Edith Cowan were campaigners for social change and we're proud to continue featuring them on the $50 banknote. The new banknote provides the opportunity to tell more of the rich story behind these distinguished Australians."
The Reserve Bank is working closely with banknote-equipment manufacturers and retailers to help them prepare ATMs and other banknote-authenticating machines to handle the new notes. This has included a number of trials and the early distribution of test notes to allow manufacturers and owners of these machines to update their equipment.
Existing $50 banknotes can continue to be used, as all previously issued banknotes remain legal tender. It's expected that the $20 banknote will be upgraded next year.