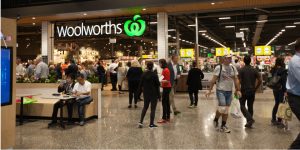 Woolworths has opened its first next-generation supermarket in Brisbane.
The Woolworths Racecourse Village Ascot store focuses on Australian fresh food and convenient shopping.
The supermarket says customers can enjoy a range of features new to Woolworths Queensland stores. These include flame-roasted chickens, seafood from a new fish market, artisan breads, and made-to-order cakes from the full-production bakery.
The store also features a new ready-meals section. There, customers can buy fresh sandwiches, salads and healthy juices. A drive-thru service area caters to those who shop online and pick up their orders in-store.
Look to support local manufacturers who have the innovation and design capability to accelerate your production rather than paying inflated international prices for your machinery.
Read More
'Neighbourhood food store'
"Woolworths Racecourse Village Ascot marks the next evolution of our journey to create a neighbourhood food store for Queensland customers," Woolworths Queensland State Manager Matthew Franich said. "It provides a great shopping experience for our local customers, with good prices on products they want, a great fresh offer and the convenience they're looking for.
"Our team has spent a great deal of time understanding how local customers like to shop. It has designed this store with their shopping needs in mind to create this next-generation grocery shopping experience."
The Marrickville model
The new store draws on many of the elements rolled out earlier this year as part of a renewal of the Marrickville Metro store in Sydney. But there are also some new features for Brisbane shoppers.
"Customers responded positively to the new elements we included at Marrickville Metro," Mr Franich said. "We're pleased to have included most of those in the Racecourse Village Ascot store.
"However, Ascot customers will have access to new features as well, like on-trend Poke bowls from the sushi bar."
Woolworth says it has striven to make the store more environmentally friendly. For example, it has installed LED lights and carbon-efficient refrigeration and air-conditioning systems.
There is also a dedicated area in-store where customers can bring in their soft plastics to be recycled.