Australian tennis player Nick Kyrgios has launched an Australian-made no sugar soft drink brand, Alive.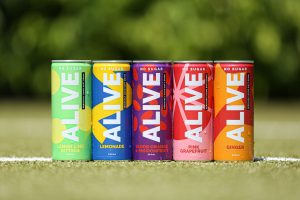 Starting to hit shelves across the country, the new range offers a beverage with one billion live probiotics and prebiotics in every can. It's available in eight flavours:
Blood Orange & Passionfruit
Ginger
Lemonade
Lemon Lime & Bitters
Orange
Passionfruit
Pink Grapefruit
Raspberry
After nearly two years of development, both in Australia and internationally, Alive is now manufactured in Melbourne and has partnered with Gen U Brands to launch the range.
Distribution is set to expand significantly in Australia and overseas in coming months.
Gen U Brands CEO Andrew Blew says he's excited to be working with Mr Kyrgios and the Alive team.
"We saw a fantastic gap in the market for a great tasting all-natural Australian made soft drink with no sugar, low calories and science backed gut health benefits," he says. "We have had a solid start as a business with Nick leading the charge and we have significant growth targets for 2023 and beyond."
Mr Kyrgios says his team is always looking for game-changing opportunities.
"Alive was put on my radar and I was excited about it. I met the founder who had a vision I wanted to be a part of. That's how our partnership at Alive was born," he says.
"I want to make a difference to people's health with a product that tastes great and delivers.
"I am excited about our first product range. Firstly, it really does taste elite, it has zero sugar, it's all natural and it has one billion live probiotics in each can.
"Obviously, as an athlete, I am always conscious about what goes into my body, and I now have a platform to influence the younger generations in a positive way regarding education around sugar. With Alive and everyone's help, I believe we can make a big difference and change the world.
"I challenge everyone selling soft drinks to give people a choice to be healthier. We can all play our part to help change habits. Stock it and lead by example."
Alive has formed a partnership with Village Roadshow and has recently worked with the World Supercross. In May, the brand commences a two-year partnership with Australian Fashion Week.