Norco, Australia's oldest and largest 100% farmer owned dairy co-operative has announced a partnership with the National Farmers' Federation to conduct a "first-of-its-kind" study into Australian farmer mental health and wellbeing.
Commissioned by Norco and in partnership with the National Farmers' Federation, the purpose of the research is to better understand some of the key issues facing Australian farmers today, particularly in light of recent natural disasters and fluctuating market conditions.
The 'National Farmer Wellbeing Report' will also compare and contrast perspectives and experiences across farming sectors, regions and demographics, in order to help drive recommendation on how the sector, and Australians in general, can better support the nation's hard-working farmers.
Nearly 12 months on from the unprecedented flooding event that devastated the Northern NSW town of Lismore and the co-operative's heartland, Norco Chief Executive Michael Hampson says how important this body of work is in order to truly quantify the impact of natural disasters on our nation's farmers.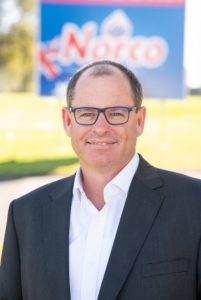 "From droughts, bushfires and the more recent flooding events, our dairy farmers in particular have been doing it tough for many years now, and we know these experiences aren't exclusive to just our sector of farming," Mr Hampson said.
"As a 100% farmer-owned co-operative, and Australia's last operating dairy co-operative, it is a core mission of ours to continuously support and deliver value to our farmers, and to identify ways that we can also help safeguard the future of our industry.
"Partnering with the National Farmers' Federation on this important body of research is just one of the ways we can better understand the issues and challenges our hard-working farmers face, in order to better support them into the future," he adds.
National Farmers' Federation Vice President David Jochinke says the organisation is pleased to partner with Norco on this worthwhile initiative.
"As the peak national body representing farmers and the agricultural sector in Australia, this is an incredibly meaningful piece of work for us to be involved with and help drive," Mr Jochinke said.
"We exist to champion the issues affecting farmers and to advance the agricultural sector in general.
"The first-of-its kind data will be incredibly valuable for us to quantify key issues facing our farmers, and its impact on their wellbeing, helping us to further advocate for changes or policy outcomes that can better support the industries we represent," he says.
The survey is open until Friday, 17 February and Australian farmers wanting to have their voices heard are encouraged to take part by accessing the survey.
The research is being conducted by a third-party research agency with all survey responses completely anonymous. In return for their valuable insights, participants can also opt-in to go in the running to win one of five $200 Visa gift cards.
The inaugural 'National Farmer Wellbeing Report' will be released to industry and the public at the end of March 2023.
Supporting mental health in regional communities
To further demonstrate its commitment to supporting farmer wellbeing, Norco has also partnered with the Black Dog Institute to provide easy access to online mental health support tools for regional communities.
From March to May, Norco's high volume 2L full cream and lite milk will feature special labels and a QR code linking to bespoke mental health tools provided by the Black Dog Institute.
Additionally, during March and April 2023, five cents from every Norco branded white milk purchased at Coles will be donated to the Black Dog Institute to help fund research, resources, and digital tools which are particularly essential in regional areas where access to traditional mental health support is limited.