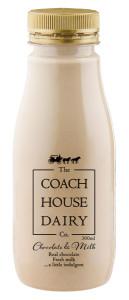 Coach House Dairy received an early first birthday present when its Chocolate Milk won a Gold Medal and Champion award for the best-flavoured milk at the Sydney Royal Awards.

Produced by NuLac Foods, the Coach House range scooped the pool at the awards, with its newly released Cold Drip Coffee with Milk and Café Mocha flavoured milks winning silver and gold medals, respectively.
The awards were a success for NuLac, with its CapriLac Goat Products winning gold and silver awards for its goat yoghurts and milk, while the newest addition to the NuLac family – Vitality on-the-go, a yoghurt-based women's recovery drink – won a bronze medal.
"With increasing demand for these new flavours and, of course, the original real chocolate milk, the team here at NuLac Foods has doubled in size since last year," NuLac Food's owner John Gommans said. "Fresh milk trucks are lining up daily and we are loving every minute of it."